Level up your mobile gaming with the best gaming phones we've recommended below. Whether you want gamer-specific features or just a lot of computing power, these are the handsets you should shortlist first.
Aside from a powerful chipset, there are other things to look out for when buying a gaming phone. You'll likely also want a great display to enjoy a game's graphics at their best, a high refresh rate display to keep things smooth, a lengthy battery life or even unique features like trigger buttons or a fan for extra cooling. Phones offering some or all of these are what we went looking for, and we found some great devices to put in this guide.
Companies like Razer and Asus — names that gamers are likely very well-acquainted with by now — have lent their expertise in the field to produce purpose-built, gaming-focused handsets. But recent flagships from Samsung, OnePlus and even Apple, with their class-leading specs, are also great for demanding titles. 
Speaking of Apple, the iPhone 13 series has surprised us all by being a better phone for gaming than dedicated gaming phones. The key reasons for this are Apple's continuing dominance when it comes to chipset power (thanks to the A15 Bionic), and the new 120Hz adaptive refresh rate displays on the two Pro models. This was the missing piece of the puzzle when it came to older iPhones, so now the iPhone 13 Pro Max sits at the top of this ranking.
Of course there are still many Android phones that are nearly as good. We like the Asus ROG Phone 5 if you want a phone aimed specifically for gaming, or the Google Pixel 6 Pro if you'd rather an all-around top handset. And Samsung now has the massive Galaxy S22 Ultra and Galaxy S22 Plus also, which do many things well including being gaming phones. They'll be added to this list shortly now that we have full reviews of both.
If you like to dip into rounds of Fortnite or Arena of Valor on the go, these are the best gaming phones for the job.
What are the best gaming phones?
The top of our best gaming phones list is the iPhone 13 Pro Max with its powerful A15 Bionic chip. You get top-tier performance and a 120Hz display, plus stellar battery life. 
Surprisingly, the best Android gaming phone is Google's Pixel 6 Pro. The Tensor chip outperformed the Snapdragon 888 in some benchmarks, notably gaming. However, if you want every little gaming feature possible, then look no further than the Asus ROG Phone 5. The combination of 144Hz display, up to 16GB RAM, a Snapdragon 888 chipset and fantastic longevity courtesy of a 6,000 mAh battery means that if gaming's all you care about, there's no better option.
Another option is the OnePlus 9 Pro, which also packs a 120Hz panel, as well as excellent software courtesy of OnePlus' Oxygen OS front-end atop Android 11. And if you want the cheapest path to premium performance, the RedMagic 5G offers the best bang for your buck, with gaming-focused features and a screen as responsive as the ROG Phone 5's, starting at a price under the $600 mark.
Read on for a deeper look into each of the best gaming phones Tom's Guide has tested, from their performance specs to pros and cons.
The best gaming phones you can buy now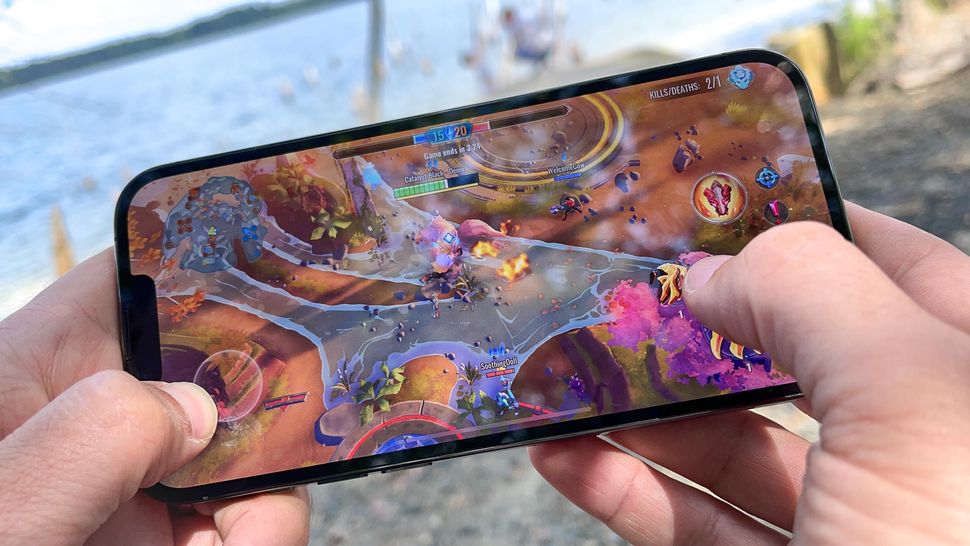 Apple's latest iPhone 13 Pro Max is simply the best gaming phone you can buy. Even the best that Android has to offer can't compare to the newest big iPhone. From the extremely powerful A15 Bionic chip to the 120Hz display and vastly improved battery life, this phone can handle any mobile game out there and then some. 
Not only is the iPhone 13 Pro Max the best gaming phone, but it's also the best phone you can buy period. It has fantastic cameras, a beautiful 6.7-inch OLED display, and a swath of features that make it a joy to use in everyday life. It also can come up with up to 1TB of storage, meaning that you'll never run out of space for the best iOS games. 
Unfortunately, the App Store doesn't allow for gaming emulators, so for those interested in playing classic games, they may be out of luck. Although, some of the most popular titles from the SNES and PS2 eras have been ported to iPhone. 
Interestingly, esports players overseas prefer to train and play games like PUBG Mobile and Garena FreeFire on iPhone. That's because the efficiency of Apple's chips allows for less heat dissipation, which makes for a more comfortable gaming experience during long sessions.
But if you'd rather have a smaller phone (and save $100 in the process), the iPhone 13 Pro is just as good as the Pro Max. Playing on the more compact 6.1-inch display can be a challenge for some games, though.
Read our full iPhone 13 Pro Max review.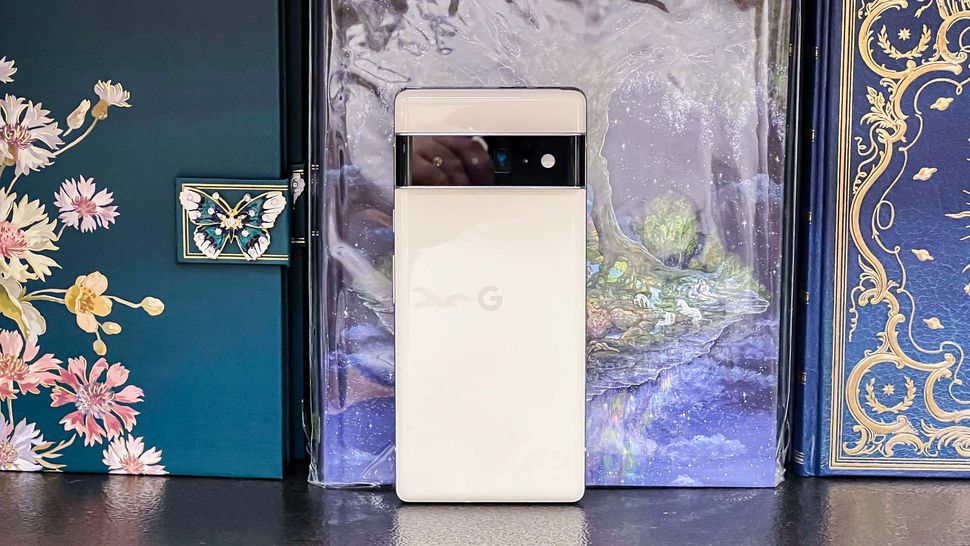 You wouldn't think that a Google phone would end up in a list of the best gaming phones, but Google delivered this year. Thanks to the excellent display and surprisingly good performance from the new Tensor chip, the Pixel 6 Pro is certainly a good choice for your next gaming phone.
But that's not all. Not only does the Pixel 6 Pro perform well in games and benchmarks, but it also excels at being a normal phone, too. It might lack some of the fancy features other gaming phones have, but it sports the best cameras you can get on an Android phone. After all, you probably want your phone to do other things well, too.
If we had to level one complaint against the Pixel 6 Pro, it'd be the disappointing battery life. While the battery is certainly large enough to go for hours, the phone for some reason turned in a lackluster result in our battery life testing. But in our day-to-day use, the phone is just fine, even with intense games and Xbox Game Pass.
Read our full Google Pixel 6 Pro review.
If you are serious about your mobile games, and if you don't want to settle for anything less than the highest frame rates, crispest graphics and longest battery life, the Asus ROG Phone 5 is the best of the best gaming phones.
Sporting a 6.78-inch AMOLED display with a variable refresh rate up to a max of 144Hz, the ROG Phone 5's screen is near flawless. Combined with a powerful Snapdragon 888 chipset and up to 16GB RAM, it'll take on any game you throw at it. There's also a large 6,000 mAh battery with 65W charging which will keep you playing for long periods without having to break to recharge.
The focus on gaming is a blessing and a curse though. It means you have customizable RGB lights on the back, virtual trigger buttons on the side and some powerful stereo speakers which all add to the experience. However lackluster cameras and no wireless charging mean the phone is missing some key versatility. Plus that loud design may not be to your taste.
If that isn't enough performance for you, there's also the limited edition Asus ROG Phone 5 Ultimate that adds more RAM and storage. But for most users wanting to focus on gaming above all else, the normal ROG Phone 5 is the phone to go for.
Read our full Asus ROG Phone 5 review.
If you want a high-end Android phone for a bit less than what most high-end handsets cost, and you want peak performance for gaming without sacrificing on other amenities like design and camera quality, the OnePlus 9 Pro is a well-rounded proposition and a worthy member of the best gaming phones list.
The OLED display on OnePlus' latest flagship measures 6.7 inches and packs a 1440p resolution, making the screen sharp as well as colorful. But the OnePlus 9 Pro rises toward the top of our best gaming phones list because of its dynamic 120Hz refresh rate, which makes for a remarkably smooth experience for the games that support it, like Fortnite. Even the touch sampling rate is boosted to 360Hz, thanks to OnePlus' new Hyper Touch technology, giving you the instant response you need to claim victory.
Of course, the OnePlus 9 Pro succeeds in many other ways. It lasts long on a charge and supports faster wired and wireless charging than most other devices out there. It features four cameras on the back which are now genuine rivals for the ones on an iPhone or Galaxy phone thanks to help from Swedish camera maker Hasselblad. And the OnePlus 9 Pro has phenomenal software that actually adds some usefulness to Android 11, as well as a handsome and easy to navigate user interface. 
All of this will set you back $1,079, which is unfortunately quite expensive, costing more than many of its rivals while only offering a modest set of gamer-friendly features. It's definitely worth the price if you want a well-rounded phone though.
Read our full OnePlus 9 Pro review.
The RedMagic 6S Pro is one of the cheapest pathways to Qualcomm's Snapdragon 888 Plus processor on the market right now, earning it a mention on this list of the best gaming phones. For just $599, you can have a device with a high-end chipset, up to 16GB of RAM and a 6.8-inch 165Hz AMOLED display with a flat design and slim bezels that are conducive to gaming. A fan inside also ensures the device can run demanding titles optimally, which is extremely important if you're gaming for long stretches of time.
Of course, if fantastic software or camera performance is a priority for you, the RedMagic 6S Pro isn't going to be the best fit — there are certainly more well-rounded handsets out there. However, they all cost more, and so those who prioritize gaming and the power needed to do so but have a more modest budget would be wise to consider it.
Read our full RedMagic 6S Pro review.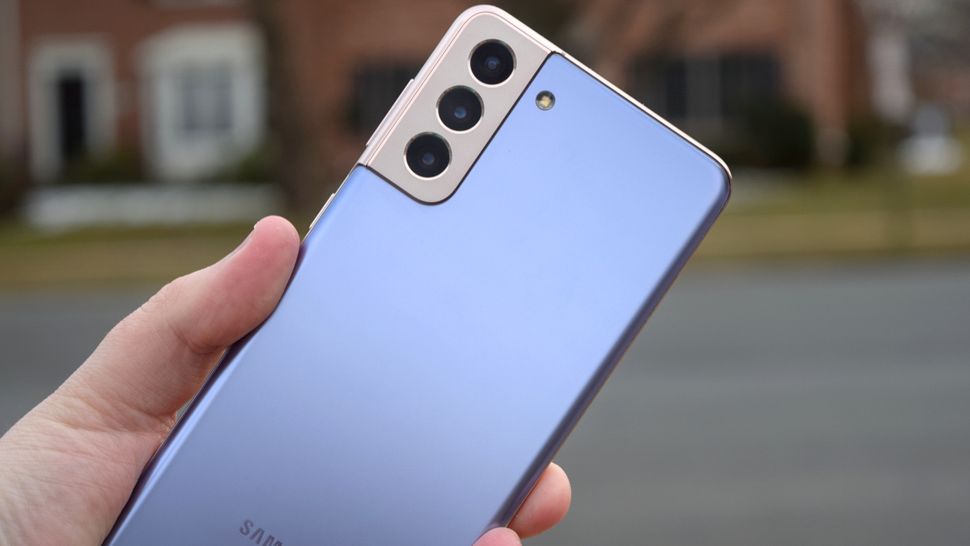 If you want a well-rounded Android phone that can also handle flagship games, the Samsung Galaxy S21 Plus is a smart choice.
The S21 Plus has a 120Hz panel and a Snapdragon 888 processor like all of this year's top flagships. It may only have 8GB of RAM, but that doesn't hold it back. It's still fast in every sense of the world. Plus, its 5G support extends to millimeter-wave networks as well as sub-6GHz ones, which allows for the quickest data speeds on the planet for when you're gaming online away from home.
Although it does offer Xbox Game Pass support, the Galaxy S21 Plus doesn't offer much strictly in the way of dedicated gaming features though — it's just an all-around great (and, unfortunately, kind of expensive) flagship device that also happens to be one of the best gaming phones.
Now, Samsung did recently announce the S22 line of phones. We're currently reviewing the Galaxy S22 Plus and will update this list if we feel it's a worthy contender. 
Read our full Samsung Galaxy S21 Plus review.
If your ideal gaming phone is one that's just as capable for other flagship-level activities as it is for games, the Oppo Find X3 Pro might find its way onto your shortlist.
The 6.7-inch display on the Oppo offers a QHD panel, while its 5Hz-120Hz refresh rate means you'll only get smooth performance when it's needed. That means you'll get the best of the phone while gaming but save power when you're idly scrolling through menus or looking at photos.
Speaking of which, the Find X3 Pro is fantastic for cameras too. There are two 50MP cameras – one for normal images, the other for ultrawide. You also get a 13MP telephoto camera with 5x hybrid zoom and a 3MP microscope lens for long-distance and extreme close-up shots respetively.
Add to this mix its Snapdragon 888 chip and 12GB RAM, the Find X3 Pro can easily keep up with the best gaming phones in terms of performance. Plus its unique design, with the camera bump flowing into the main body of the phone, means it's much easier on the eyes than a device covered in bright colors and flashing lights.
The only problems are it's currently not on sale in the U.S. – it's an option for our readers in the U.K. and beyond. It's also a very expensive phone at £1,099, which while cheaper than some rival devices, is still a lot of money to spend.
Read our full Oppo Find X3 review
With its surprisingly low price, the OnePlus 9 offers a premium experience for gamers who want a cheaper best gaming phones option that covers all bases.
The display offers the high refresh rate essential for smooth gaming, and a decent battery life to keep you playing without fear of the phone shutting down. You get the best silicon available in the form of the Snapdragon 888, which also offers you 5G compatibility for when you're gaming on the move.
Within the well-designed OxygenOS skin for Android 11, OnePlus offers Pro Gaming Mode, which maximizes performance and turns off your notifications to keep you focussed. And the sound from the stereo speakers helps you keep track of the action if you're playing without headphones. Beyond gaming, you also have speedy 65W charging and Hasselblad-tuned cameras on the back. 
You may prefer one of the other phones higher up this list with more gaming-focussed features or better overall specs. But at $729, it's impressive just how much you get for both overall features and gaming specifically.
Read our full OnePlus 9 review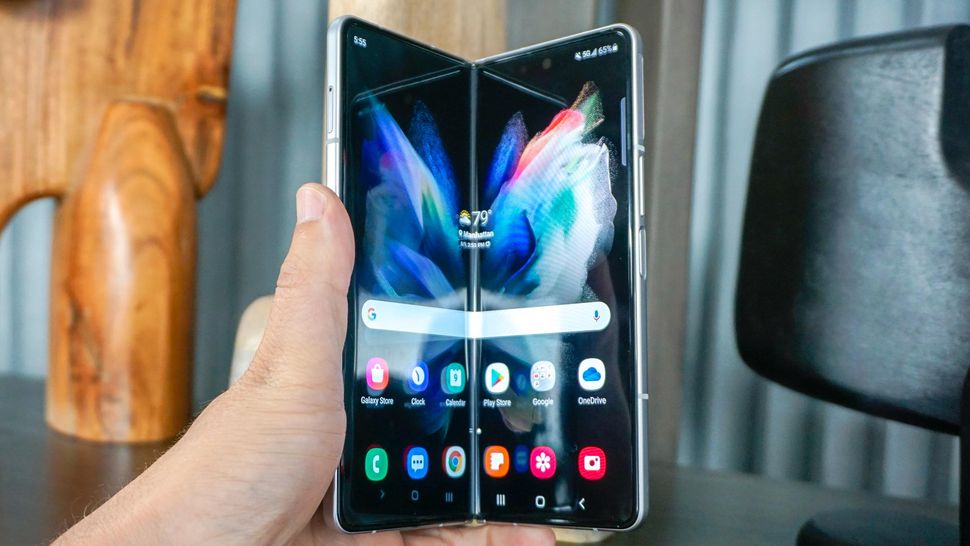 If you've got a lot of money to burn, the Samsung Galaxy Z Fold 3 could arguably be the best gaming phone of them all. None of the other phones on this list compare to the enormous 7.6-inch display within the Z Fold 3, which along with the newly introduced S Pen stylus compatibility makes this phone uniquely immersive and practical. Of course if you're struggling for space, you still have the small exterior display, which still has a 120Hz refresh rate like the inside for smooth frame rates.
Of course you pay both literal and metaphorical prices for this. This is the most expensive phone on this list by several hundred dollars, and also the heaviest and chunkiest, especially when folded up. It's got a pretty poor battery life too, which isn't ideal if you're wanting to get a lengthy multiplayer session going. This isn't a phone to buy on a whim, but it is one that could suit you well if you won't settle for anything less than the most impressive display.
Read our full Samsung Galaxy Z Fold 3 review
How to choose the best gaming phone for you
As with all things, choosing the right gaming phone is a matter of priorities. If you're after the best performance — and you likely are if you're reading this — you'll want a phone with a Snapdragon 8-series chipset or Apple's A14 Bionic. Emphasis on the Snapdragon, as Qualcomm's best silicon for Android phones is available in devices from a number of manufacturers.
But what about high refresh rates? That's something you'll only find on the more expensive end of the market, though it's a feature that will surely descend to more modestly-priced phones over time. Panels rated at 90Hz and above offer smoother scrolling and overall graphics than conventional screens, making you feel as if every swipe, tap and action is eliciting a response with no delay. If you're an especially serious competitive gamer, higher refresh rates will ensure you won't miss any of the action.
Of course, the more a device is geared toward gaming with the appropriate features, the more phone makers ignore other considerations. While battery life is central to gaming (because games consume a lot of power), you'll have a tougher time finding gaming phones with great camera hardware and software, or perhaps conveniences like wireless charging and water resistance. If those things are important to you, you may want to focus your search on the more powerful handsets on this list that aren't strictly intended for gaming but can still very much hold their own, like the Galaxy Note 20 Ultra and iPhone 12 Pro Max.
How we test gaming phones
In order for a smartphone to make any of our best phone lists — gaming phone or otherwise — it needs to excel on several tests that we run on every handset. We perform some of these tests in our labs and some in the real world.
When it comes to performance, we rely on such synthetic benchmarks as Geekbench 5 and GFXBench to measure graphics performance. These tests allow us to compare performance across iPhones and Android devices. We also run a real-world video transcoding test on each phone using the Adobe Premiere Rush app and time the result.
To measure the quality of a phone's display, we perform lab tests to determine the brightness of the panel (in nits), as well as how colorful each screen is (DCI-P3 color gamut). In these cases, higher numbers are better. We also measure color accuracy of each panel with a Delta-E rating, where lower numbers are better and score of 0 is perfect.
One of the most important tests we run is the Tom's Guide battery test. We run a web surfing test over 5G or 4G at 150 nits of screen brightness until the battery gives out. In general, a phone that lasts 10 hours or more is good, and anything above 11 hours makes our list of the best phone battery life.
Last but not least, we take the best phones out in the field to take photos outdoors, indoors and at night in low light to see how they perform versus their closest competitors. We take shots of landscapes, food, portraits and more, and also allow you to be the judge with side-by-side comparisons in our reviews.