The best home gym equipment lets you stay fit and healthy from the comfort of your living room. Exercise is essential for both your physical and mental health, and outfitting your space with the best home gym equipment is an easy, convenient solution.
The best part? It doesn't have to cost a lot of money. Building a home gym might seem like a daunting task, but you can truly do it on a budget. You also don't need a ton of space. Focus on a few key pieces that are affordable, have a small footprint, and meet your exercise needs. What's more, building a good home gym might save you money on an expensive gym membership. 
We've broken down our choices for the best home gym equipment into categories, such as the best adjustable dumbbells, the best yoga mats, best exercise bike, and the best elliptical machine. Along with the best home gym equipment, you should consider outfitting yourself with some of the best running shoes for your home workouts, and the best fitness trackers to keep an eye on your progress. 
What are the best home gym equipment items?
The best home gym equipment breaks down into many categories. We've selected 13 products and accessories based on the most popular kinds of workouts, such as running and weight lifting. 
Many people don't have a lot of space at home to store gym equipment, so we kept an eye on size. The CAP Barbell Coated Hex Dumbbells, take up very little room as do the INTEY Pull Up Assist Band Exercise Resistance Bands. And you can't get smaller or more portable than the best jump rope, the AIZIYUO Jump Rope.
Some workouts require larger pieces of home gym equipment, though. When it came to selecting those, we kept an eye on affordability. The XTERRA Fitness TR200 Folding Treadmill is inexpensive compared with other options in the category. 
The best home gym equipment right now
Best exercise bike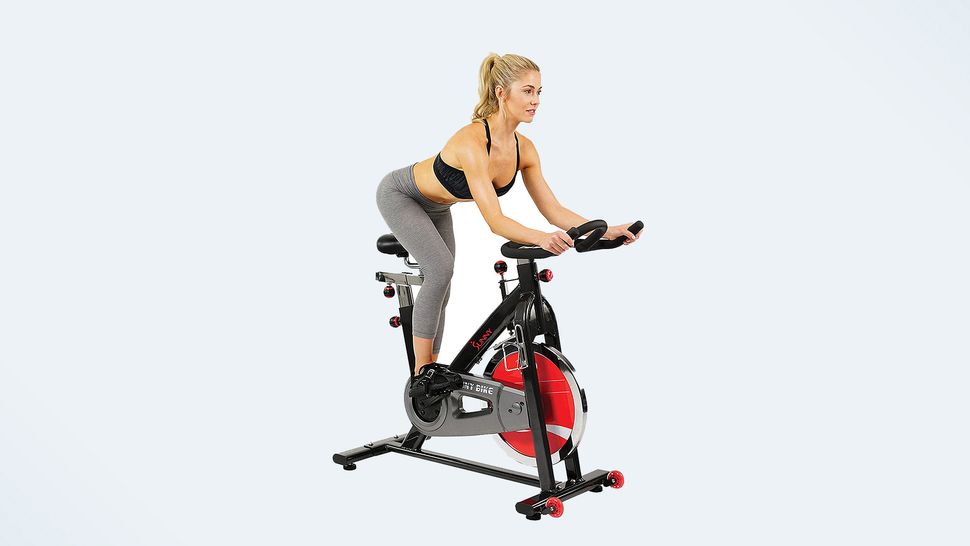 The affordable exercise bike from Sunny Health & Fitness has a 49-pound weighted flywheel that can hold a maximum weight of 275 pounds. The leather band resistance system is designed to mimic the feel of a real road. The seat can adjust to four settings and the caged pedals include clips to keep your feet in place. While the bike doesn't come with a screen, there is a bottle holder and assembly takes about 10 minutes.
We found to be a very solid, sturdy bike, with nice, large toe baskets. And it produced a quiet ride. However, those who are a bit shorter may find the bike a bit uncomfortable. And, because there's no display or any guided fitness programs, you'll have to be self-motivated to use it. Overall, though, it's a great bike for beginners who don't want to spend thousands of dollars on something they might not use again.
Read our full Sunny Health & Fitness exercise bike review.
Best treadmill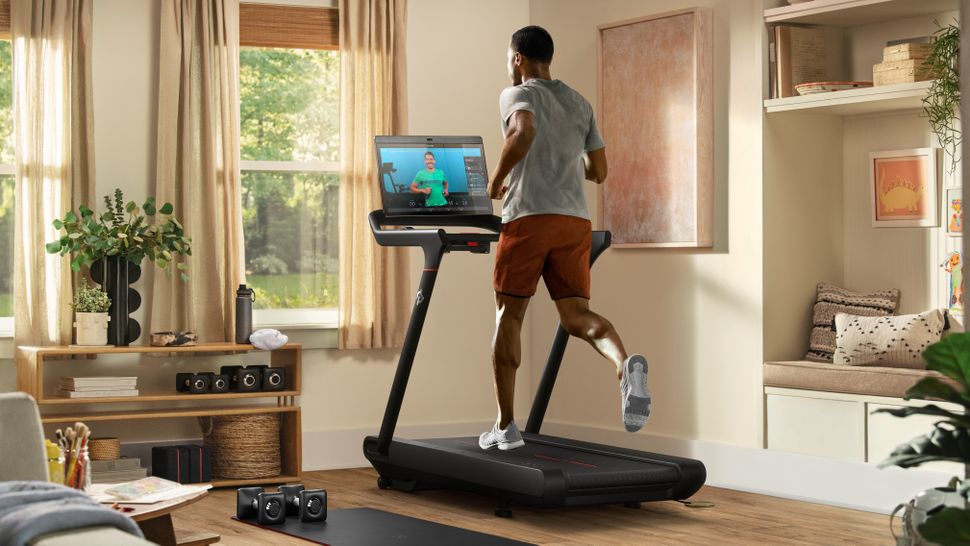 Recently, our Fitness Editor put some of the most popular treadmills to the test and one stood out from the crowd as a clear winner  —  the Peloton Tread. Sure, it's expensive, but it's a brilliant piece of kit, and the classes are second to none. 
The treadmill is much more compact than a number of other popular treadmills on the market  —  at 173cm long and 84cm wide, the Tread easily fits in a spare bedroom, or gym garage conversion (if you are putting it upstairs, you'll want to chat to Peloton first, as like all treadmills, this might not be recommended if you live in an older building). It is also super easy to use. The speed and incline wheels on the arms of the treadmill make it easy to pick up the pace, without having to reach out and try and stab at the touchscreen while running. 
The thing that really makes the Peloton stand out from a very crowded market is the classes. The large, 23.8 inch HD touchscreen displays your instructor, as well as a leaderboard of other Peloton runners, and makes running on a treadmill the best it can be. 
See more of our picks for the best treadmills.
Best smart home gym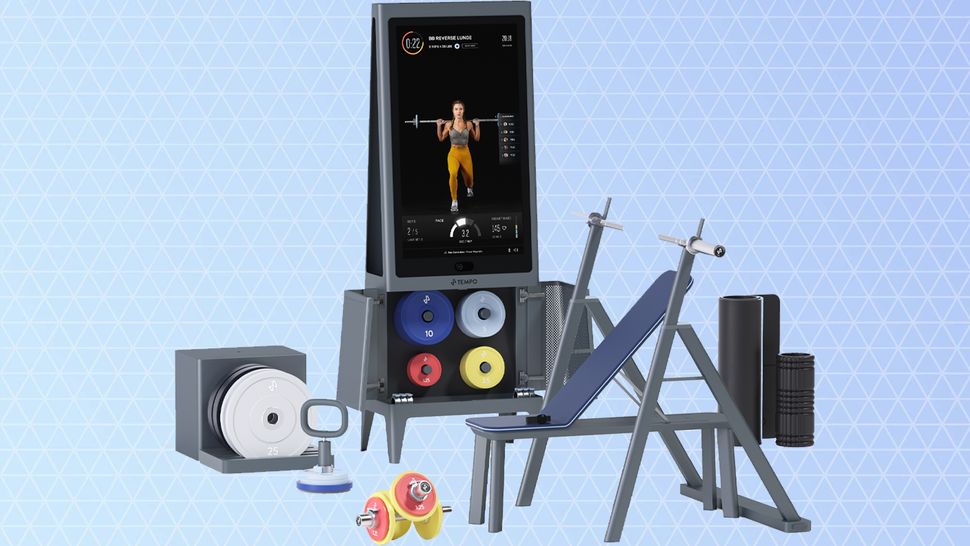 The Tempo Studio smart home gym isn't cheap, but it's a worthwhile investment. If you enjoy game-ifying your weight-training workouts, there's an awful lot to like about the Tempo Studio.
The Tempo Studio is a large mirror-like device with a screen that displays both live and recorded workouts — much like Mirror, Tonal, and Vault. A few accessories, like dumbbells and a workout mat, are included. What sets the Tempo apart from the competition are 3D motion sensors that analyze your body as you're exercising and make suggestions to improve your form. 
Read our full Tempo Studio review
Best rowing machine
Rowing machines aren't the sexiest or most exciting piece of gym equipment, but it gets the cardio and muscle-toning job done. It gives you a full-body workout in your legs, arms, back and core. And rowing is lower impact than running, so your knees and ankles will be spared.
When it comes to the fanciest, and arguably most attractive, rower to add to your home gym, the Hydrow ticks all the right boxes. It looks beautiful, but can easily be folded away when you're not using it. The large 22″ touchscreen allows you to follow the brand's live and on-demand classes because let's face it, rowing can get pretty monotonous pretty quickly. The brand have used patented technology to create a rower that really feels like you're on the water, so keen rowers should enjoy the workout a little more than using the rower in the gym. 
Last, but by no means least, the rower is one of the quietest on the market, which is a major plus if you plan on using the rower when the household is asleep. 
Best dumbbells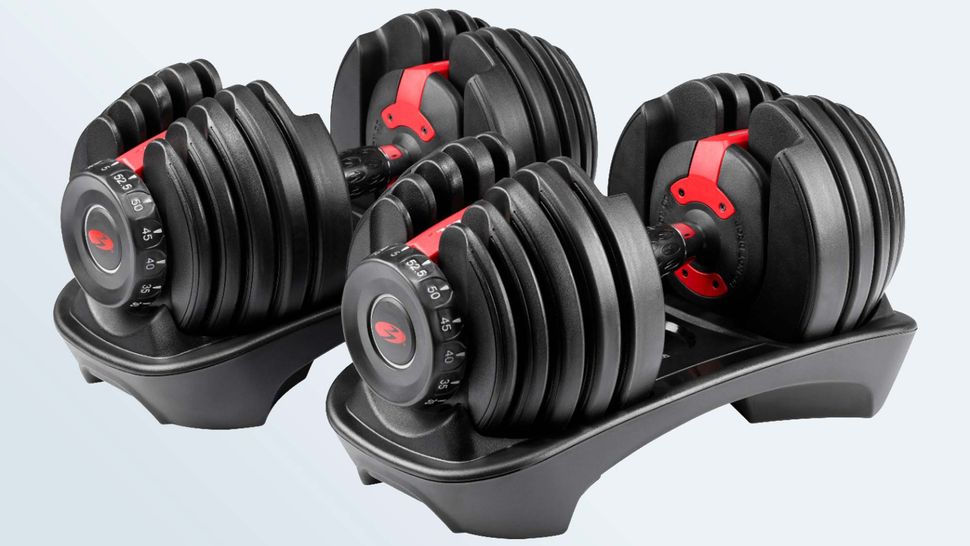 The Bowflex SelectTech 552 are so popular and well-reviewed that they're out of stock with most retailers. If you're lucky enough to find a pair online, jump on it. They replace 15 sets of weights and adjust in 2.5-lb increments, with just the simple twist of a dial. No need to remove and add on plates! That makes it incredibly easy to move through your resistance training workout, from tricep curls to chest presses to squats. Plus, you can use the 552 with the Bowflex SelectTech training app to track your progress and get personalized coaching.
One Amazon reviewer wrote, "I've been using these for over a year now and they have served me very well." A Walmart reviewer praised the 552s as "Easy to operate and a pleasure to use. The proper equipment makes for a quality workout. An excellent investment if you want exceptional equipment."
Read our full Bowflex SelectTech 552 review. 
See more of the best adjustable dumbbells.
Best kettlebell
Kettlebells are often overlooked at gyms, but just like dumbbells, they can engage multiple muscle groups of your body. They're great for building a base of strength and mobility. Kettlebell swings will get your heart pumping, fat burning and muscles toning (especially your posterior). 
The Yes4All kettlebells have a vinyl coating and range from 5 to 45 pounds. One reviewer said, "The handle is a perfect size for two hand grabbing," while another noted that the Yes4All kettlebell was worth the cost. "Great price for a very nice kettlebell. (Seriously, the quality is there, so why pay so much more, elsewhere?)"
Best elliptical machine
Elliptical machines are some of the most popular pieces of equipment at any gym. The machines provide a tremendous cardio workout, as well as high-intensity interval training, but with a lot less stress on your joints than running. And many elliptical machines have handles, which work out the upper body at the same time as the lower body. The Sunny Health & Fitness Elliptical Machine does all that for the very affordable price.
The Sunny Health & Fitness Elliptical Machine features 16 adjustable levels of resistance and 24 workout modes. The digital monitor displays time, speed, distance, calories and distance. The hand sensors monitor your heart rate. As one reviewer said, "It is sturdy, surprisingly so, and looks like it will last a typical home user for many years."
Best pull-up bar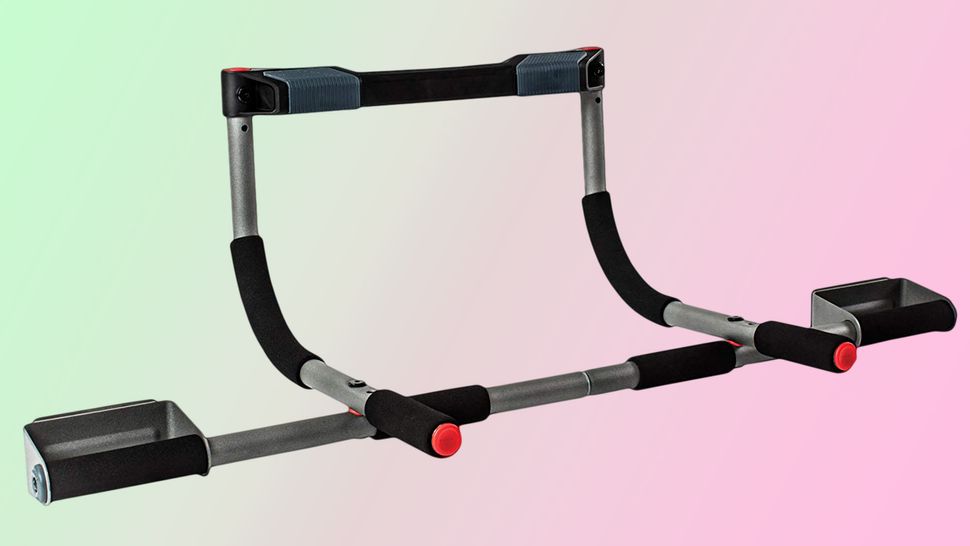 If you're looking for a small footprint for home gym equipment, it doesn't get much smaller than a bar for pullups. Pullups strengthen upper body muscles and is one of the harder exercises to master. A pullup is done by hanging onto the bar with palms facing away from you and your body extended fully. You pull yourself up until your chin is above the bar (a chin-up is done with your palms facing you). 
Perfect Fitness Pull-Up Bar is super affordable and has a 300-pound capacity and padded handles that provide three grip positions. The Perfect Fitness bar can also be turned over and used for situps and pushups. And best of all, it can fit different-size doorways. As one reviewer said, "This is perfect! Low price & easy to install. It was exactly what I was looking for."
Best ab roller
The ab wheel, or ab roller, may seem simple but, oh, will it give you a major workout. The ab wheel is extremely effective in strengthening your core muscles. If you're hoping to build a six-pack, this is the piece of home gym equipment you need. In addition, the Vinsguir Ab Roller is well-made and cheap.
The Vinsguir Ab Roller supports up to 440 pounds and features a non-slip rubber wheel and soft, ergonomic, padded handles. It's easy to assemble and has a minuscule footprint, making it perfect for anyone looking to build a home gym in a small space. And it comes with a free kneepad! One reviewer said, "I am very surprised at how much this actually works …. This is one of those 'as seen on TV' items that actually works."
Best yoga mat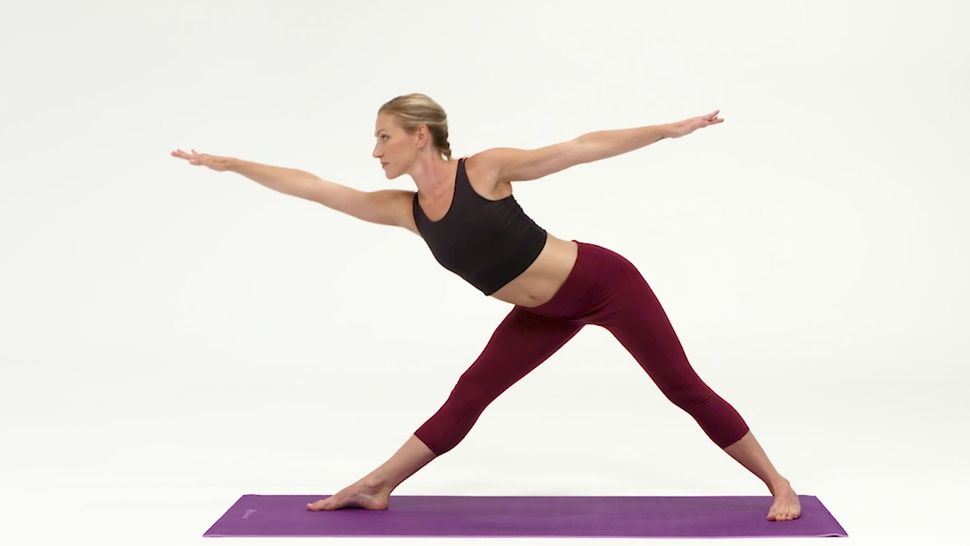 The Gaiam Premium 2-Color Yoga Mat is perfect for beginner and experienced yogis, as well as anyone looking for a fitness mat to work out at home. The 6mm-thick, PVC surface provides decent cushioning and is textured to be non-slip. The mat is reversible, so you can choose which of the two colors to use on any given day. If your mat doesn't hold for any reason, Gaiam also offers a lifetime guarantee.
Reviewers on Gaiam's website were impressed with the quality and "beautiful design" at such an affordable, reasonable cost. One reviewer said, "This is a great mat for a great price. It stays put, the material doesn't flake off, it's thick enough but not too thick and my hands and feet don't slide around. Very comfortable and vibrant colors." Another said, "This mat has lasted me a few years now and still looks new."
Check out our picks for the best yoga mats.
Best resistance band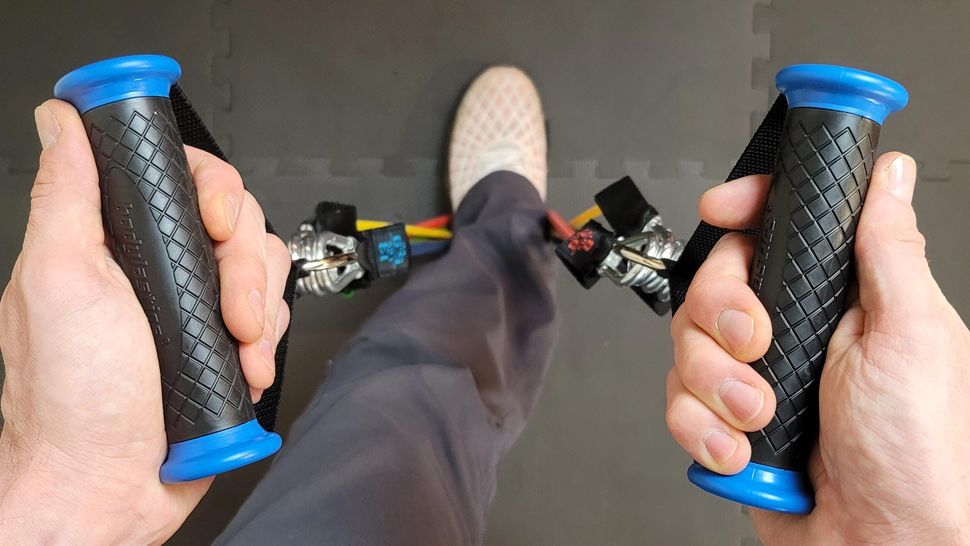 The best resistance bands for full-body fitness are the Bodylastics resistance bands. This kit has it all: in addition to the exercise bands themselves, it comes with a variety of useful attachments, including handles, ankle straps and a door anchor. The durable, anti-snap latex bands range in resistance from 3 to 30 pounds, and can be used together for a total resistance of 404 pounds, depending on which kit you buy. Everything comes in a tidy carrying pouch; the whole package weighs less than 5 pounds total, and it's easy to toss the kit in a backpack, lickety-split. 
The best thing about these bands is the patented anti-snap technology, designed to prevent overstretching and snapping during those more intense workouts; in the case of any nasty snaps, the internal cord prevents that dreaded "whipping" effect across your body or face. 
For more, here's our guide to the best resistance bands for workouts.
Best exercise ball
An exercise ball is one of the most versatile pieces of home gym equipment you can get. It can strengthen your core, improve your flexibility, and balance and help with back pain. Using an exercise ball as a chair when you're working can be beneficial for your posture. The Trideer Exercise Ball is one of the highest density balls you can get, with 2,000 micrometers in thickness and a weight capacity of 2,200 pounds.
The Trideer Exercise Ball is easy to inflate (a free foot pump is included) and comes in a variety of sizes and colors. It's made of non-toxic PVC material, no BPAs or heavy metals. One reviewer said, "I got rid of my chair and honestly this has made my upper back pain go away." The exercise ball is also helpful during pregnancy. Another reviewer noted, "I'm currently nine months pregnant and it really takes away my pelvic pain."
Best jump rope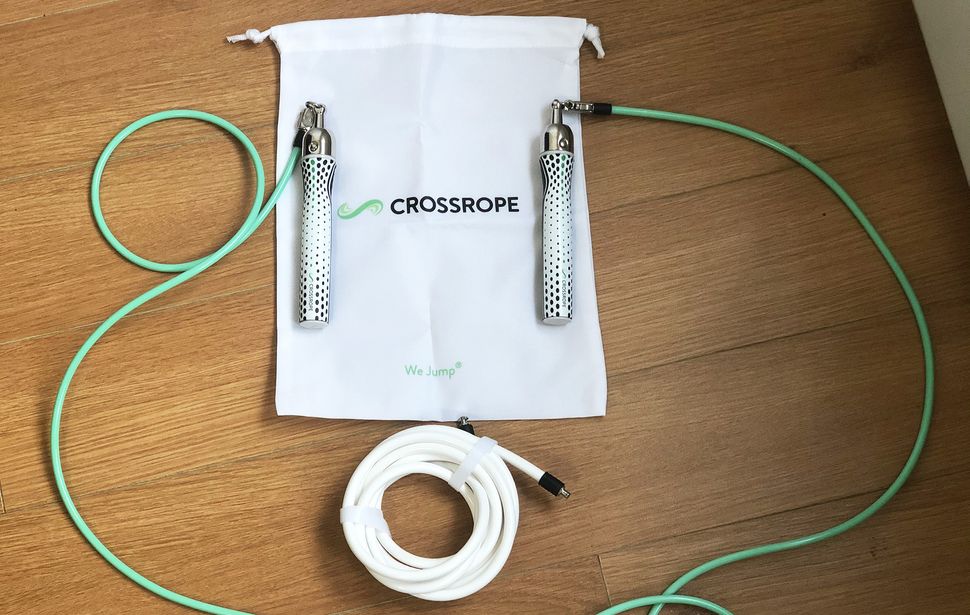 The innovative design and integrated app are what make the Crossrope Get Lean the best jump rope. The Get Lean comes with two interchangeable ropes, weighing 4 and 8 ounces respectively, which click firmly into the handles and allow you to easily diversify your routine. The handles are another big highlight — slim enough to fit in  smaller hands, but big enough to get a firm grip.
But beyond the great design, the Crossrope's biggest plus is the app, available for iOS and Android. You can spend a bit more money for a premium membership ($79.99 annually or $9.99 per month), but there's plenty of content offered in the free version. You'll find tutorials, challenge groups, and lots of workout programs using various combinations of ropes.
See more of the best weighted jump ropes.
Best punching bag
Boxing workouts engage multiple areas of the body: upper, lower and core. Hitting a punching bag provides great aerobic exercise, improves coordination, increases endurance and strengthens bones and ligaments. Boxing is also a great way to relieve stress and anxiety. And you can acquire self-defense skills while you're at it.
The Everlast Powercore Dual Bag and Stand comes with two bags, a speed bag made of premium synthetic leather and an 80-pound heavy bag made of Premium Nevatear™ with reinforced webbing. The specially blended filler mix of sanitized synthetic and natural fibers provides resilient shock absorbency. One reviewer said, "If you need to train at home in a compact area this is great."
Best protein shaker
The best protein shaker should be an equal mix of value and functionality, and the BlenderBottle Strada fits the bill for most pre- and/or post-workout needs. This 24-ounce shaker is made from 316 surgical-grade stainless steel, which is rated to keep drinks cold for up to 24 hours. The leakproof design includes a foolproof locking mechanism on the lid to keep your liquid nutrition off the floor and in your gullet. The BlenderBottle Strada comes in five elegant color choices, too, so you're sure to find one to match your personal style. 
The top screws on smoothly and cleanly, and just as advertised, the Strada really is leakproof once you lock the lid. The double-walled insulation works well, too. Ounce for ounce, the Strada is our top pick for elevating your nutrition game. 
See more of the best protein shakers.
Best water bottle
The Purist Mover, which is part of a larger collection of bottles that range from 10 to 32-ounce capacities, has an outer wall constructed from 304 stainless steel, and an inner wall made from surgical-grade, 316 stainless steel. What sets this water bottle apart, however, is the 60-nanometer-thin glass coating on the inside, which prevents any metallic tastes (or a hint of last week's coffee) from polluting your hydration experience. Plus, this makes it easier to clean.  
The stainless steel exterior is simple and elegant, yet built for some abuse; it's designed to keep drinks hot for 12 hours, or cold for 24. Other color options are available, but they're a lot more muted than what you'll find with other water bottles. And true to its word, the Mover is completely leakproof when closed.
See more of the best water bottles.
Best foam roller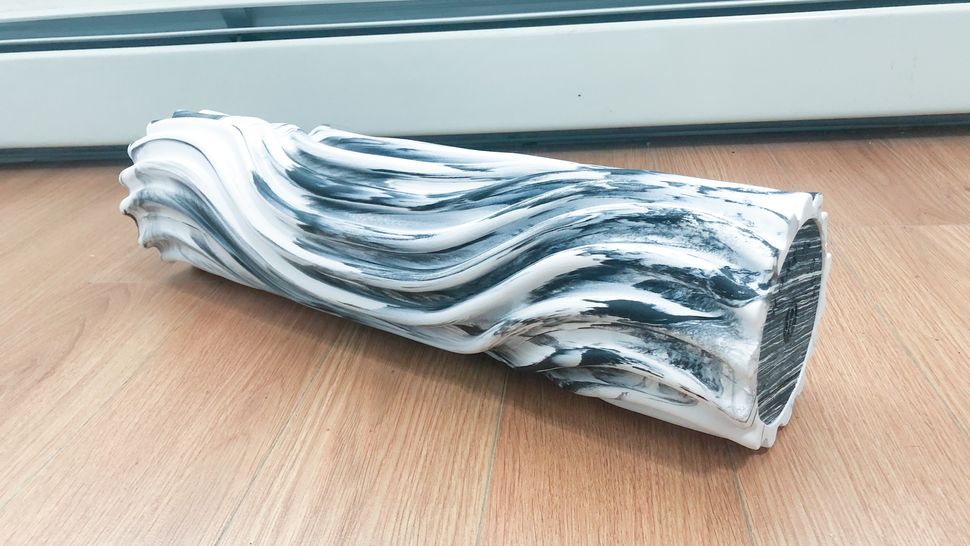 The Lululemon Double Roller is the best foam roller on our list, as it's one of the most versatile foam rollers on the market. Its interlocking design is made up of a softer exterior roller that provides appropriate pressure to overworked muscles in the arms and legs, and a denser interior roller that digs into tougher-to-treat spots in the back.
While plenty of foam rollers can be used on thicker tissues in the hips and lower body, it's not so often you're able to find a great roller for the upper body. That's where the slightly grooved, moderately dense outer roller really shines. 
The wavy texture of the inner roller is great for targeting stiff muscles in your back, but it's also a useful tool to address tense spots in your quadriceps (the muscles in the front of the thigh) and hamstrings (muscles in the back of the thigh).
All in all, its a brilliant two-in-one product that can help you target all the different areas of your body. 
See more of the best foam rollers 
How to choose the best home gym equipment
When buying the best home gym equipment, the main factors to consider are the type of workout, size and price. 
As far as workouts, if you prefer cardio, you may want to consider an exercise bike or a treadmill. If you want to engage in strength training, dumbbells and kettlebells are popular pieces of home gym equipment. For full body workouts, a rowing machine or elliptical machine target multiple muscle groups and get your heart rate up.
Size is something to think about, as well, since you might not have a lot of space for home gym equipment. Consider machines that fold up and stow away. Resistance bands and ab rollers are two items that are small and portable. 
Lastly, price plays a huge role in what kind of home gym equipment you get. Luckily, there are more choices out there, whether you're on a budget or you can afford to splurge. Cheap items like a yoga mat and a jump rope are versatile and useful in all kinds of workouts.
---
Get healthy and in shape with our other fitness gear guides:
Wearables
Best smartwatches | Best running watches | Best Garmin watches | Best sports watches | Best fitness trackers | Best cheap fitness trackers | Best Fitbit | Best cheap running headphones | Best running headphones
Workout equipment
Best exercise bikes | Best Peloton alternatives | Best adjustable dumbbells | Best resistance bands | Best foam rollers | Best treadmills| Best yoga mats | Best weighted jump ropes | Best smart scales | Best shoes for Peloton and indoor cycling | Best water bottles |Best protein shakers
Apps and exercises
Best workout apps | Best running apps | Best 10-minute ab workout | How to lose belly fat | Best tabata workouts | Best 30-minute workouts | Best beginner HIIT workouts
---