Windows 11 has arrived, and with it come our picks for the best Windows 11-ready laptops that'll run Microsoft's latest operating system without breaking down into a silicon sweat. 
If you have a laptop running an older processor that can meet the security requirements of Windows 11, then you really should consider the laptop below. 
This list has the best Window 11-ready laptops so far based on our testing and reviews. But do bear in mind that new laptops are on the horizon, such as the Dell XPS 13 Plus, so expect this list to grow over time. 
The best Windows 11-ready laptops you can buy right now
Dell's XPS 13 and Microsoft's Surface Laptop 4 are our top two picks for the best Windows 11-ready laptops, though there are plenty more on this list that are worth your attention. 
The Razer Blade 14 also gets a shout out for seemingly being able to pull double-duty as a gaming laptop and a workhorse machine for every day use and creator work as well. 
The Dell XPS 13 has long been one our pick for the best laptop, and the latest model has an 11th Gen Intel Tiger Lake processor, meaning it's more than ready for Windows 11. What's more, this edition of the XPS 13 is a great laptop, blending a gorgeous display with a small chassis, solid build quality and a very nice keyboard and trackpad. 
There's also the new Dell XPS 13 OLED model, which takes this stellar ultraportable and makes it even better, albeit at a premium price. Expect about 8 hours for the OLED version and a superb 11 hours for the LCD model. 
Read our full Dell XPS 13 OLED review.
Not interested in OLED? Don't miss our Dell XPS 13 (2020, 11th Gen) review.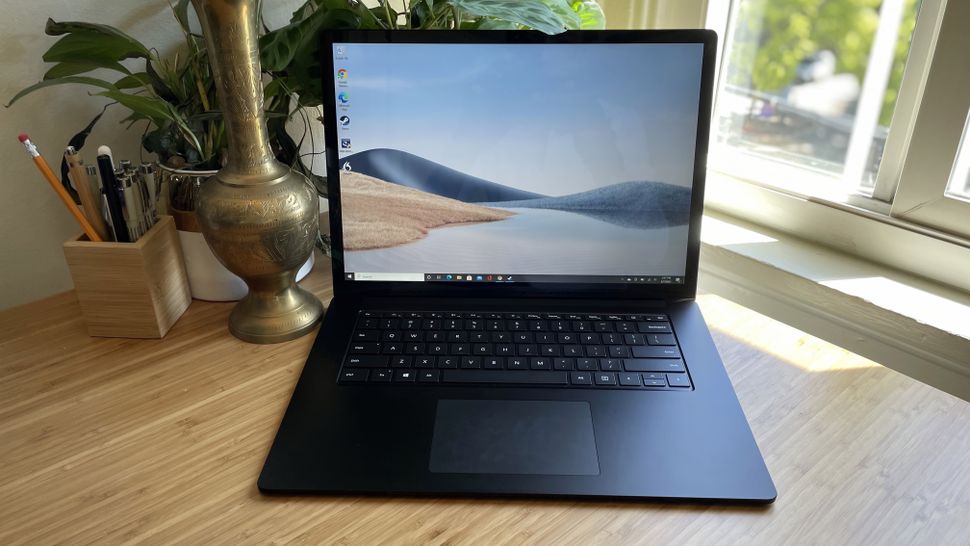 The Microsoft Surface Laptop 4 is an excellent Windows 11-ready laptop. It's a lovely rectangle of industrial design that holds one of the best laptop keyboards around. Plus, it comes in 13- and 15-inch models and offers a choice of the latest Intel and Ryzen mobile processors, both of which are ready for Windows 11. 
The Surface Laptop 4 also benefits from a lovely 3:2 aspect ratio display, which should be a boon for productivity when you're working in Windows 11. And the solid speakers and nearly 11 hours of battery life are just icing on the ultraportable cake. 
Read our full Microsoft Surface Laptop 4 review.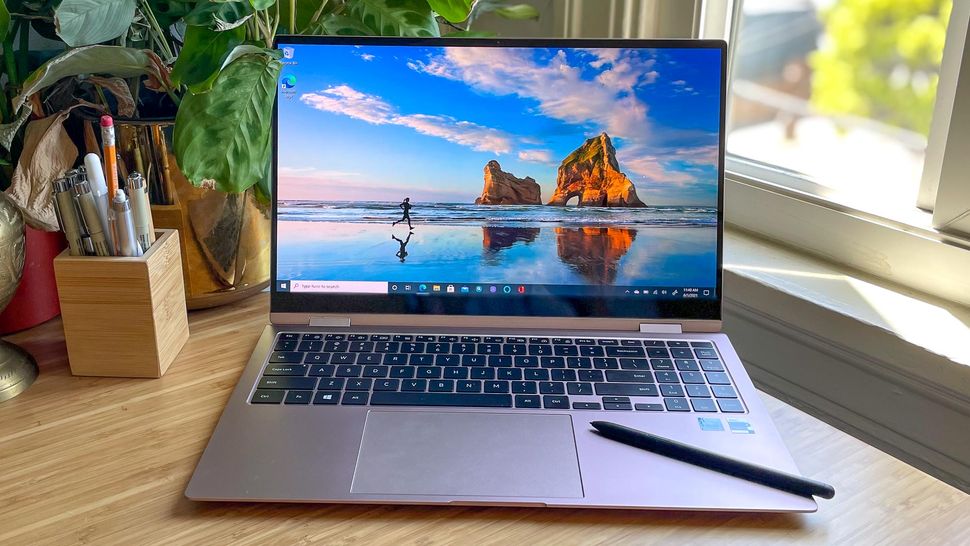 The Samsung Galaxy Book Pro 360 is a superb 2-in-1 that's fully optimized for Windows 11. It's a lovely thin and light laptop that works with an S Pen stylus and has an impressive AMOLED display with slim bezels. 11th Gen Intel processors with Xe graphics give it plenty of power ready for Windows 11, as well as for tackling all of your work tasks; just don't expect to do any intensive gaming on it. 
Other Galaxy Book Pro 360 highlights include a whopping 13.5 hours of battery life and a remarkably thin and sturdy design that weighs just 3 pounds. That's highly portable for a 15-inch laptop.
Read our full Samsung Galaxy Book Pro 360 review.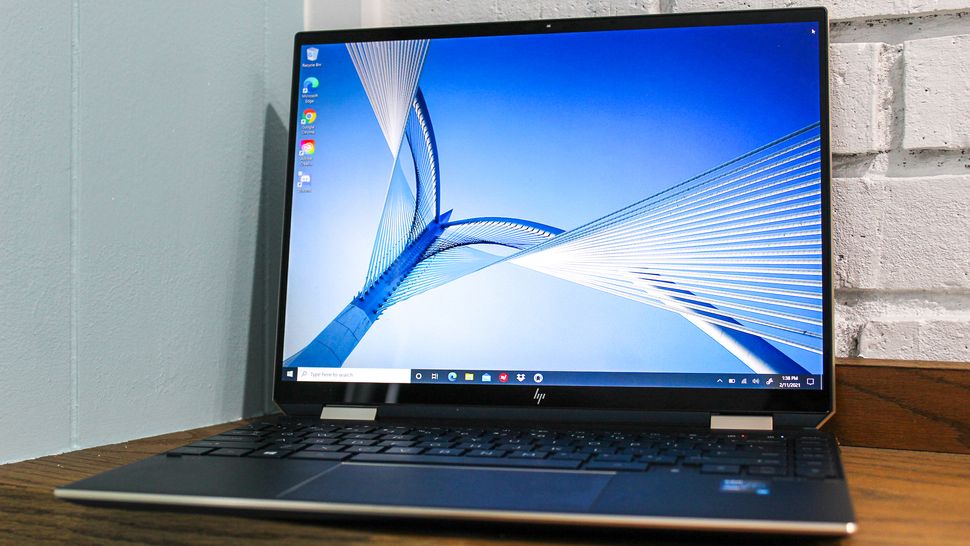 If you want to go down the convertible route with a Windows 11-ready laptop, then HP's Spectre x360 laptops are well worth a look. In our HP Spectre x360 14 review, we were impressed by the 2-in-1's power, display and design, as well as its sound quality and stylus controls. 
Granted, the Spectre x360 14 is not cheap and isn't flush with ports. But you're getting a stylish laptop that can pull double duty as a big Windows 11 tablet. Add in more than 12 hours of battery life in our testing and you have a winner.
Read our full HP Spectre x360 14 review.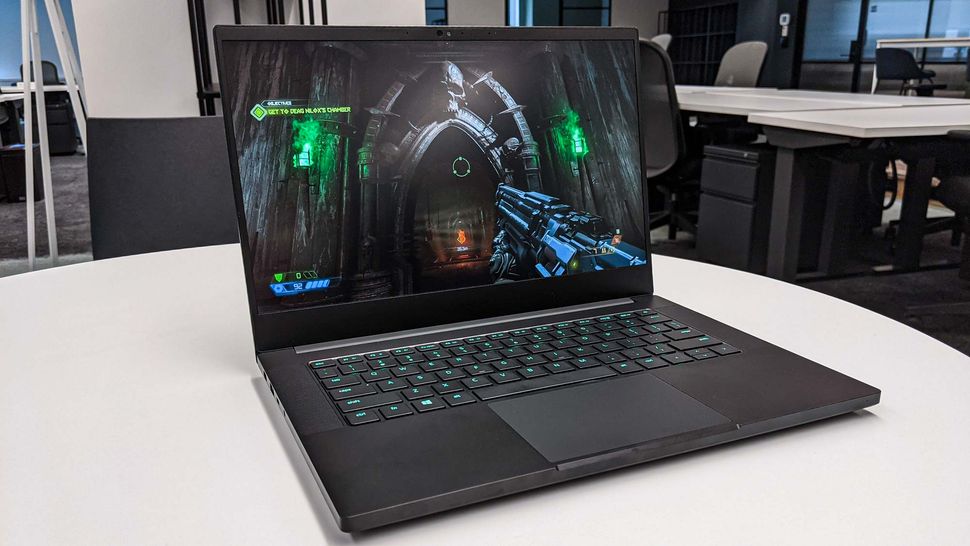 The Razer Blade 14 is an ideal laptop if you want a device that's got enough power to game on, is Windows 11-ready, and it's still very easy to carry around. 
Sporting a powerful AMD Ryzen 9 5900HX, up to an Nvidia GeForce RTX 3080 GPU, and a 165Hz refresh rate display, the Blade 14 is a compact powerhouse laptop that you won't feel too self-conscious about taking out at a trendy coffee shop to hack out a few emails on. We saw about 6 hours of battery life when web surfing, but expect less endurance when gaming. 
Read our full Razer Blade 14 review.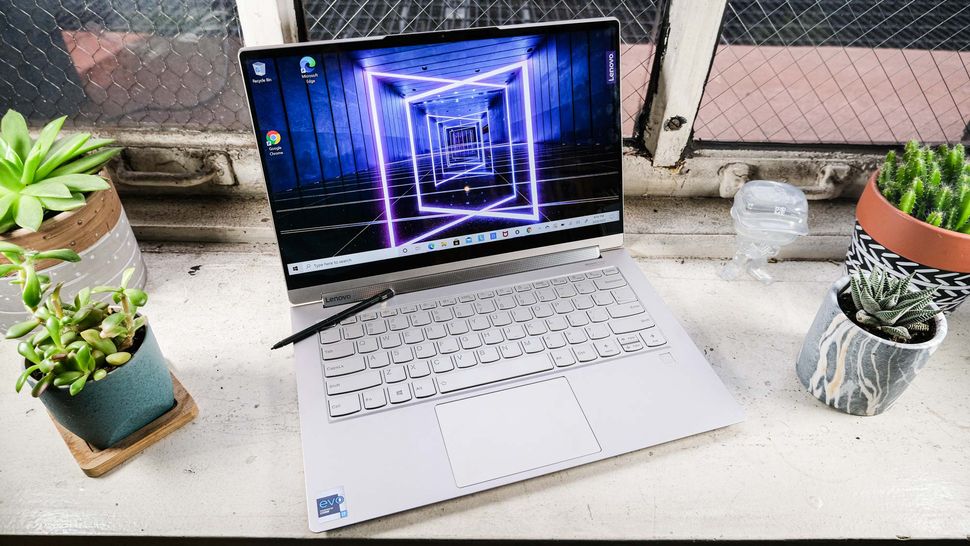 For its price, the Lenovo Yoga 9i is a great 2-in-1 complete with the latest Intel Tiger Lake CPUs, so it's ready for Windows 11 and has plenty of RAM and storage space. 
In fact, it's one of our picks for the best 2-in-1 laptops, offering good battery life, a colorful display, an amazing rotating speaker and fast performance. It's also an attractive laptop with a solid keyboard and stylus support. The only strikes against this Windows 11-ready system are its thin port selection and a display that could be brighter. 
Read our full Lenovo Yoga 9i review.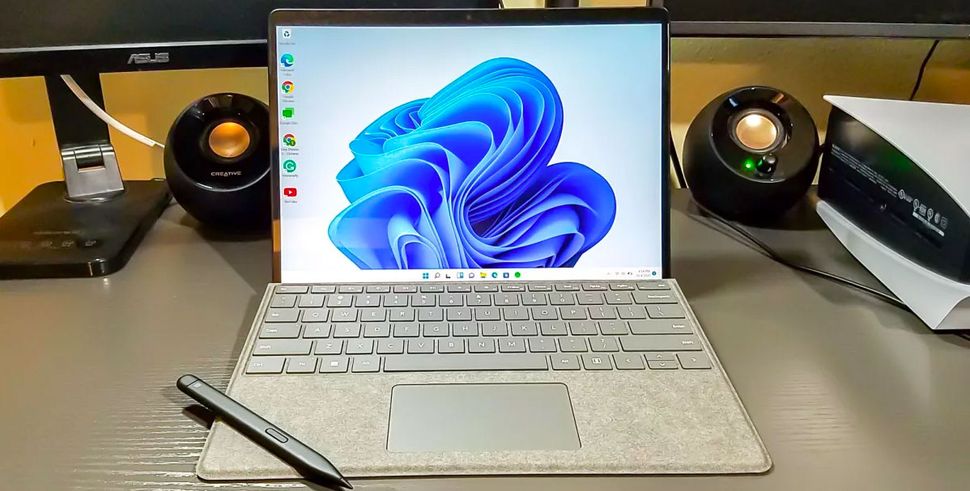 The Surface Pro 8 not only gets access to the latest Intel laptop-grade chips, which means it's easily Windows 11-ready, it also gets a fresh design, finally seeing Microsoft move away from the rather long-in-the-tooth 2-in-1 hybrid design. 
As such, the Surface Pro 8 comes with a larger, more vibrant display and an improved Type Cover keyboard accessory. While it's not cheap and can't be used as a gaming device, it's one of the best hybrid devices around and has pretty much been built for Windows 11. 
Read our full Microsoft Surface Pro 8 review.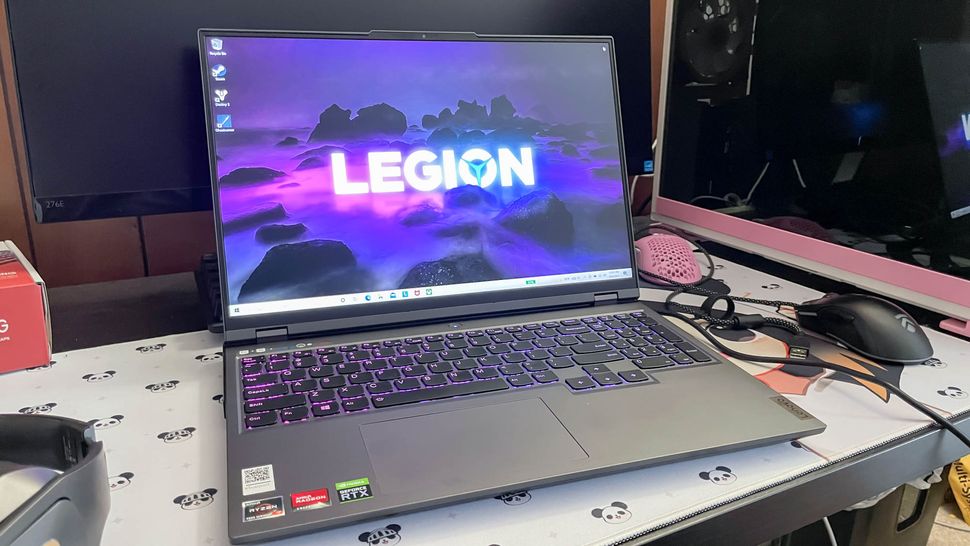 If you want a well-equipped and designed gaming laptop that'll run Windows 11 then the Lenovo Legion 5 Pro is well worth a look. It can be configured with up to an Nvidia GeForce RTX 3070 to really give it plenty of gaming power at 1440p resolution.
And unlike a lot of gaming-grade laptops, it looks rather understated meaning it could pull double duty as a machine for creative work, such as video editing. You'll need space in your backpack for the 300W charger that's a tad bulky, but otherwise the Legion 5 Pro offers a lot for a price that starts as low as $1,300. 
Read our full Lenovo Legion 5 Pro review.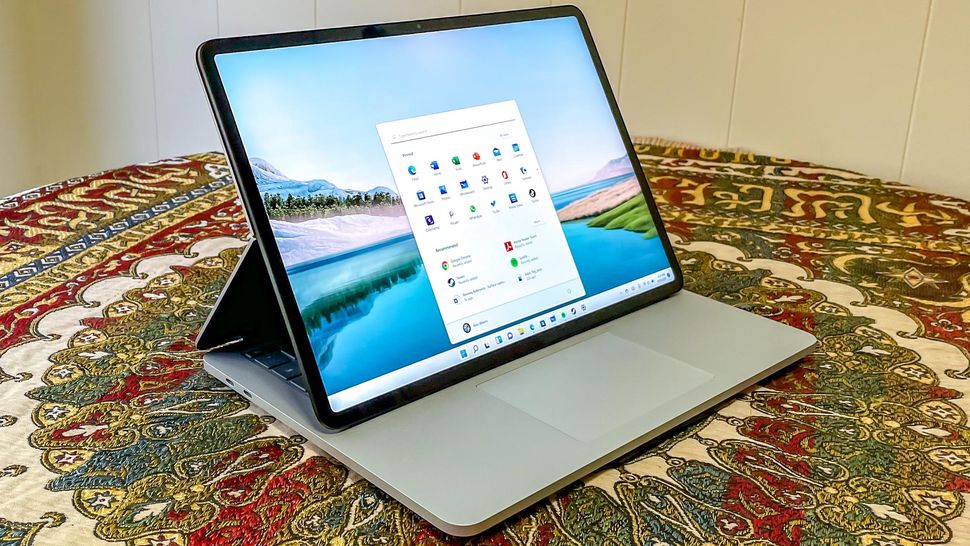 if you want a Windows 11 laptop that's a little differnet from a lot of other machines on the marker, then look no further than the Microsoft Surface Laptop Studio. It's basically a Surface Book reimagined to be a MacBook Pro-like machine when in its normal orientation and then an digital easel when used in its tablet form. 
The idea here is the Surface Laptop Studio is a one stop shop for productivity, creativity and entertainment; for the most part, it is all that. The machine's 11th Gen Intel CPU and 16GB of RAM gives you enough power to tackle most work, And if you opt for a model with the discrete Nvidia GeForce RTX 3050 Ti GPU, the Surface Laptop Studio also doubles as a decent machine for gaming or video editing on the go. It's pricey but few other laptops can match its intriguing sliding hinged display of the Surface Laptop Studio. 
Read our full Microsoft Surface Laptop Studio review.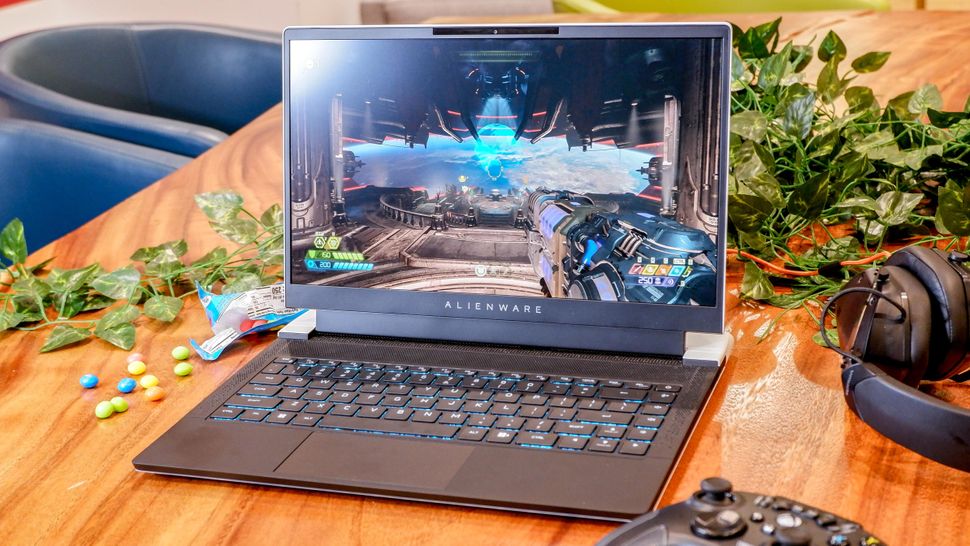 Somewhat treading the line between gaming laptops and almost-ultraportable design, the Alienware X14 offers a lot of power in a compact frame, meaning it's more than ready to handle gaming on Windows 11. 
A little more flexibility when it comes to specs might have been our preferences, but the Alienware X14 still offers plenty, especially as it fits in a 144Hz display and Nvidia GeForce RTX 3060 graphics power. We also rather like its clean but standout design. 
Read our full Alienware X14 review.