Samsung remains the unquestioned leader when it comes to making the best foldable phones. But that doesn't mean the company is going to rest on its laurels the rest of the year — or that other phone makers aren't looking to take Samsung on with foldables of their own.
Rumors suggest that new versions of Samsung's Galaxy Z line of foldables are in the works, with a launch date looming in the second half of the year. Meanwhile, more foldable phone prototypes are emerging — we're particularly impressed by TCL's Fold and Roll device — and the on-again/off-again Pixel Fold is rumored to be on again for later in 2022. 
To put it another, Samsung may be on a roll after the Galaxy Z Fold 3 and the Galaxy Z Flip 3 scored big last year. But those devices won't be the last word on the best foldable phones.
Samsung and other phone makers ultimately dream of taking the best foldable phones beyond niche devices and turning them into handsets with mainstream appeal. The lower price of the Galaxy Z Flip 3 is helping make that happen, as it allows you to buy a foldable phone for less than $1,000. The addition of S Pen support to the Galaxy Z Fold 3 makes that phone more appealing, too (though the S Pen is optional and not included like it is on the Galaxy S22 Ultra). 
Foldable phones are better than ever, though we're expecting new models to emerge this year and prices to hopefully drop a little bit. Still, if you can't wait for the rumored models to emerge, these are the best foldable phones you can buy right now.
What are the best foldable phones?
We think the Galaxy Z Fold 3 is the best foldable phone you can buy thanks to its expansive, productivity-boosting screen. The addition of S Pen compatibility lets you jot down notes and drawings on the 7.6-inch display. The Z Fold 3 also improves on its predecessor with better durability and an under-display camera.
For many people, though, the best foldable phone will be the one they can afford. And that's likely to be the Galaxy Z Flip 3, which finally drops the price of foldables below $,1000.
Microsoft's new Surface Duo 2 tries to take on Samsung's foldables with a dual-screen approach. And while it's a big improvement on the first Surface Duo, the two-screen approach doesn't quite work for people who just want an expanded screen space — which is really the case for foldable phones at this point.
The best foldable phones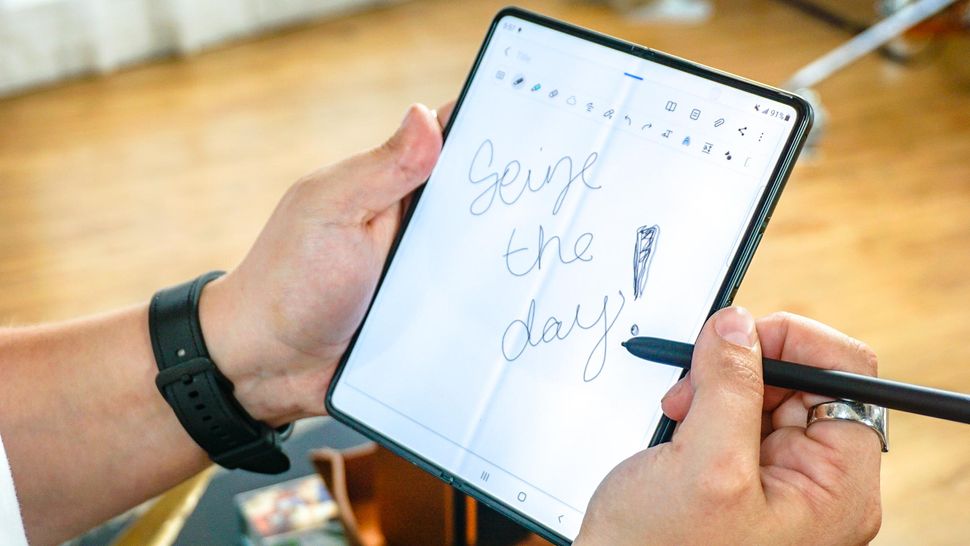 The Samsung Galaxy Z Fold 3 continues to set the standard for foldable phones, addressing some of the criticisms with previous models, while adding welcome new features such as a 120Hz refresh rate for both of its displays. We wish the price would have dropped a little more, but at $1,799, the Galaxy Z Fold 3 has a lower starting price than the Z Fold 2 did when it debuted in 2020.
The improved durability of this foldable phone — it now has an IPX8 rating for water resistance and a more durable screen — will ease the concerns some people may have had about whether the Galaxy Z Fold could stand up to the rigors of daily use. Samsung has also worked with more app makers so that their software is optimized for the Galaxy Z Fold 3's unique 7.6-inch folding display.
S Pen support has been added to the Galaxy Z Fold 3, though it remains optional like it is for the Galaxy S21 Ultra. That means you have to pay extra for the S Pen as well as a case to hold the stylus since there's no slot in the phone itself. But the big main display on the Galaxy Z Fold 3 gives you ample space for sketching and writing down notes.
If you want the most powerful foldable phone — and one of the best productivity-boosting devices overall — then the Galaxy Z Fold 3 is a good choice, provided you can deal with the lofty price tag.
Read our full Samsung Galaxy Z Fold 3 review.
Replacing the Galaxy Z Flip 5G, the new Galaxy Z Flip 3 does everything better this time around. Not only is the phone more durable than before, but the cover display is vastly improved. It's larger and shows more information now.
The Flip 3's design is more streamlined with squared edges and beautiful color options. It also has some internal upgrades, including the Snapdragon 888 processor. The cameras and battery remain the same, however — the Galaxy Z Flip 3 does not have a telephoto lens.
At $999, the Flip 3 is the most affordable foldable ever, but it does have its drawbacks. Notably, the battery life isn't great whatsoever. The crease across the middle of the displays remains quite prominent, noticeable when dragging your finger over it or when the light catches it just right.
The Galaxy Z Flip 3 is probably the foldable most people will want to pay attention to due to its more affordable starting price. It's a looker and folds up neatly to fit in most pockets. And if you're willing to pay $100 extra, the Galaxy Z Flip 3 Bespoke Edition lets you choose the colors of the front and back panels as well as the phone's frame.
Read our full Samsung Galaxy Z Flip 3 review.
As we discovered in our Oppo Find N vs. Galaxy Z Fold 3 face-off, this foldable phone from Oppo tops the best foldable phone from Samsung in several key areas, not the least of which is the lack of a gap near its hinged display. When the Oppo Find N is closed, its two halves sit flush against each other — something the Galaxy Z Fold 3 doesn't deliver.
But Samsung's phone has a clear edge in one aspect — you can't get an Oppo Find N outside of China at the moment, and the phone is unlikely to ever reach the U.S. That's a shame because it offers a great display, and the phone remains useful even when folded up. It's well-designed enough to slip into a pocket, too. Even if the Oppo Find N doesn't ever appear outside of China, we hope other foldable phone makers sit up and take notice of its sturdy design.
Read our full Oppo Find N hands-on.
Unlike Samsung's two phones, the Microsoft Surface Duo 2 is not really a foldable device. Instead, it features two separate 5.3-inch panels that open up to give you an 8.3-inch workspace. You can run apps across the two panels, though you'll have to contend with a gap running right down the middle of your app where the screens come together. It's better when using optimized apps where different tasks are relegated to different screens on the Surface Duo. You can also multitask, running two apps on different sides of the device.
Microsoft deserves credit for addressing many of the problems with the first Surface Duo in this sequel. The hardware is up-to-date, and the design is as elegant as ever. But the problem with Microsoft's approach is that this really isn't an expanded work surface — instead it's two separate 5.3-inch panels that are further squeezed by significant bezels. The Surface Duo 2 represents a better phone before, but it's still not the best big-screen experience out there.
Read our full Microsoft Surface Duo 2 review.
What to look for in a foldable phone
Before you buy a foldable phone, you'll need to consider what that kind of device will be able to do for you that a standard phone can't. Even with the Galaxy Z Flip 3's $999 price, you'll still pay up for foldable phones, so unless you really need the extra screen real estate, you may be better off with a phablet or one of the other best big phones that we've tested.
If you do think a foldable phone will help you get more done, though, be sure to pay attention to the device's construction. Early foldable phones like the Galaxy Fold and original Motorola Razr had design quirks that led us to pan those handsets. With the Galaxy Z Fold 2, though, Samsung made some critical changes that made the phone more likely to withstand everyday use, and that work continued with the Galaxy Z Fold 3, which added water-resistance among other improvements. So research a foldable phone's hinge and just how many times a phone maker says the device will open and close.
There are two screens to consider when buying a foldable phone — the larger internal display and a secondary screen, usually on the outside of the device. Find out just what you can do with that exterior screen — can you run full apps or is it just there for notifications and a few other features? And does the screen support something like Samsung's continuity feature where the app you're using on the cover screen is waiting for you when you open the device?
Some foldable phones don't actually fold. The Microsoft Surface Duo 2, for example, is a dual-screen device that opens up to reveal two separate panels. Many of LG's now-departed phones took the same approach.
Apart from size — you'll want to make sure a closed foldable phone is something you're comfortable carrying around — you're looking at a lot of the same criteria you'd use to judge conventional phones. That includes the processor, cameras and — especially — the battery life. After all, there are usually multiple screens to keep powered up on a foldable phone.
Best foldable phones: What's coming soon
Be aware that foldable phones are a pretty new category in the world of smartphones, and we expect to see a lot of change come to this segment. Even after the August 2021 release of new versions of the Fold and Flip, Samsung is rumored to be  working on a device with a scrollable screen called the Galaxy Scroll. 
China seems to be a fertile market for foldable phones with the Honor Magic V and Huawei P50 Pocket joining the Oppo Find N in that country. But smartphone shoppers in other parts of the world could soon see other foldables, and we're not just talking about the Galaxy Z Fold 4 or Galaxy Z Flip 4, both of which are rumored to be coming out later this year.
Motorola could be taking another stab at a foldable flip phone after the Motorola Razr 5G failed to catch on. The Motorola Razr 3, reportedly slated for a summer release, could get the same Snapdragon 8 Gen 1 chipset that's going to power 2022's top Android phones — that would address complaints about the lack of power in previous Razrs.
After rumors suggested the Google Pixel Fold was cancelled, a new report claims the phone is back on Google's to-do list, with a ship date possible by year's end. We can't say the same for the rumored iPhone Flip, which no one expects to see before 2023.
How we test foldable phones
We test for the best foldable phones the same way we review any smartphone. We conduct lab tests, including synthetic benchmarks as Geekbench 5 and 3DMark to measure graphics performance. We also run a real-world video transcoding test on each phone using the Adobe Premiere Rush app and time the result.
To measure the quality of a phone's display, we perform lab tests to determine the brightness of the panel (in nits), as well as how colorful each screen is (DCI-P3 color gamut). In these cases, higher numbers are better. We also measure the color accuracy of each panel with a Delta-E rating, where lower numbers are better and a score of 0 is perfect.
We run a custom battery test in which we have the phone surf the web over cellular with its screen set to 150 nits of brightness. We then time how long it takes the phone to run out of power. For foldable phones, we conduct this test on the phone's main display.
We also test the cameras on each foldable phone, taking them out into the field to perform comparative shots, usually with another device that features comparable specs. In some cases, that's a foldable phone or another device in the same price tier.