A good workout app is like having a PT in your pocket — it can help you push harder, lift heavier, and eat better. But with so many different apps to choose from, knowing which will help you reach your goals can be a challenge in itself. To help simplify your workout routine, we've hand-picked some of the best workout apps to use in 2022. 
Whether you're looking for a workout app that'll give you cycling workouts of the best exercise bikes, running sessions on the best treadmills, or strength training with the best home gym equipment, there's an app tailored to your favorite type of workout. Some will be completely free to use, others will require you to pay a monthly subscription to use them. 
To help you find which is the best workout app for you, we clicked download and unrolled our exercise mats to try some of the most popular workout apps on the market. 
What are the best workout apps?
The best workout app for you will be the one that helps you reach your goals, but one of our favorites right now is Sweat, which is the best workout app for women. The Sweat app has a number of different workout programs to suit every goal — from toning up, returning to exercise post-partum, and lifting heavier weights. There are also recipe ideas to keep you on track, and the option to follow the workouts from your Apple Watch. 
Talking of Apple, Apple Fitness Plus is one of the best workout apps on the market for iPhone and Apple Watch wearers. The platform is updated weekly with new workouts and has a wide variety to choose from — from yoga, meditation, and Pilates, to strength training for runners. 
Finally, if you're on a budget and looking for free workouts, the Nike Training Club workout app has a bunch to choose from. There are dynamic warm-ups, cross-training sessions, and workouts tailored to target specific parts of the body, such as the abs, arms, and glutes. 
The best workout apps you can download today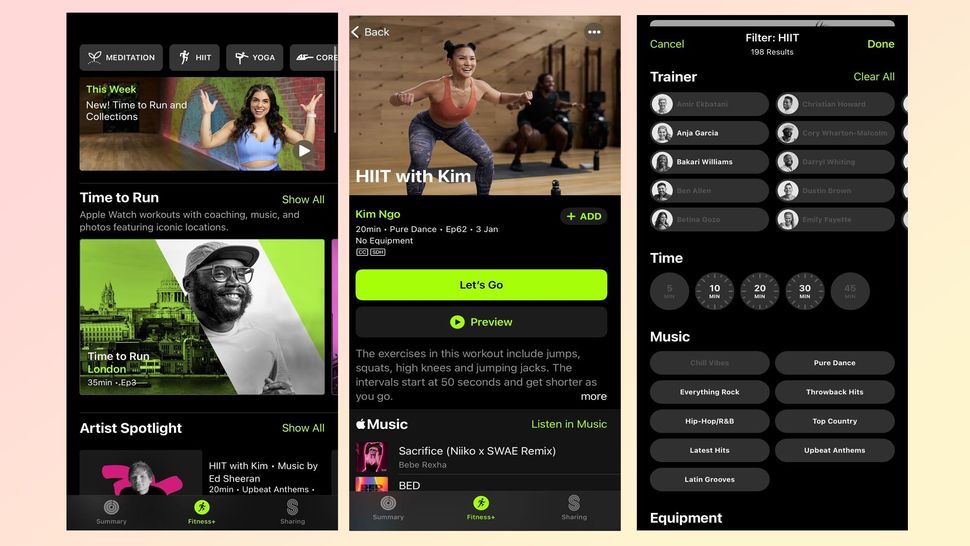 Apple Fitness Plus is one of the best workout apps for Apple Watch wearers. With HIIT, strength, core, yoga, Pilates, and meditation classes amongst others, there's a huge variety of workouts to choose from, taught by a range of different trainers. During testing, we also liked the fact there were two instructors in the background during classes, showing modifications for beginners, or those looking to push themselves harder — this is particularly handy as there's no option to filter classes by difficulty. 
The app can feel a little overwhelming at a first glance, but classes can be filtered by trainer, time, and the music you prefer to work out to. You can also add classes to your library, which lets you select classes you've taken before, or plan on taking in the future, at a glance. 
During a workout, you'll be able to see stats from your Apple Watch on the screen. You can also do group workouts with other Apple Watch wearers using SharePlay. It's a great experience, but it is limited to Apple Watch wearers, so if that's not you, you'll probably want to keep scrolling (or check out our best Apple Watch guide here). 
Read our full Apple Fitness Plus review.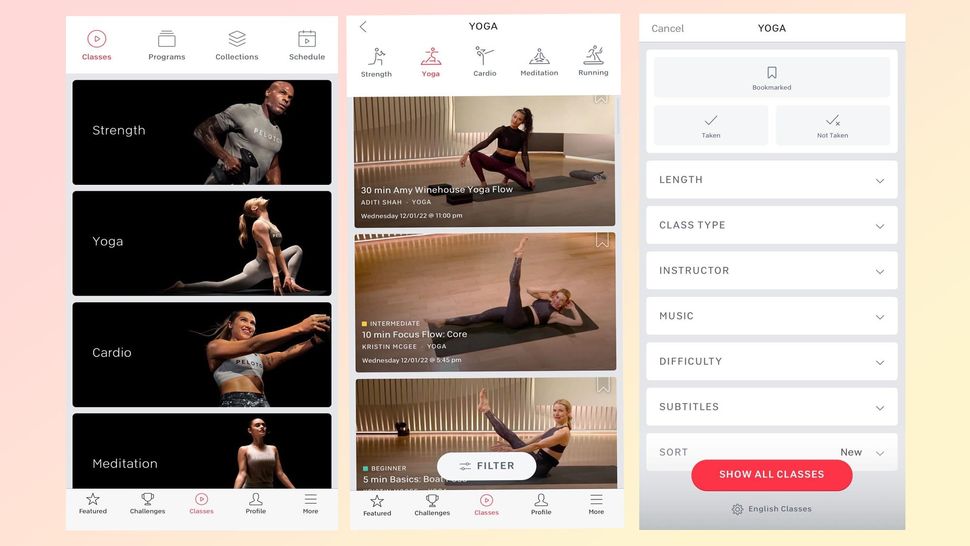 If you can't afford a Peloton exercise bike or Tread to stay in shape, the Peloton workout app is the next best thing. There are thousands of interactive classes to take that'll help you strengthen, sculpt, and get that post-Peloton buzz. The instructors stand out from the crowd in terms of their enthusiasm, and there's also the option to join live classes, and compete with friends. 
From strength to yoga, to HIIT cardio, when testing this app, we found it difficult to get bored. The option to stack classes is great, and lets you add multiple classes together so you can seamlessly add a cool-down or stretch to your workout. The classes are easy to follow on a phone or tablet, but to get a real Peloton experience, we'd recommend streaming the workouts on the TV. 
The Peloton programs give you a longer schedule of classes to help you reach your goal, whether that be to get stronger, or to "crush your core" in four weeks. There are also different collections of workouts, which make it easier to find a range of workouts by type, for example, strength for runners, resistance band training, or Pilates classes. 
Of course, to get the most out of Peloton, it's worth having access to one of the best exercise bikes, or the best treadmills to take the bike and tread classes, but even without, this is a great workout app with some of the most motivating instructors around. Newbies can get 30-days free to see whether the app is for them. 
Download Peloton now: Android, iOS 
Read our full Peloton app review.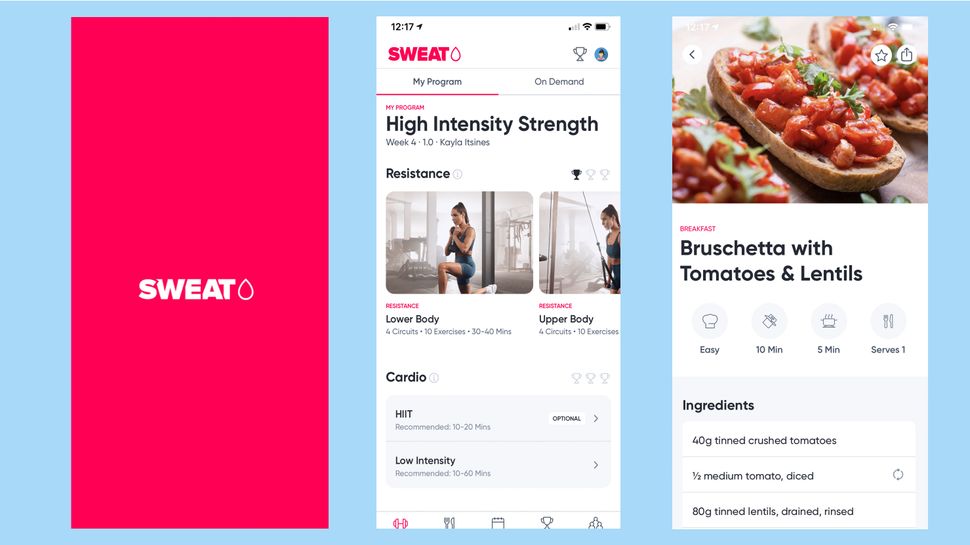 The brainchild of Australian personal trainer Kayla Itsines, Sweat started as a series of downloadable "Bikini Body Guides" in 2015 and has now grown into an extensive training app with a number of different programs and recipes to help you reach your goals. There's a structured program for every woman — from the new mom taking her first steps into post-baby fitness, to the girl looking to gain more confidence in the weights room at the gym. 
Trainers include Kayla herself, as well as the likes of Kelsey Wells, Chontel Duncan, Britany Williams, and Stephanie Sanzo. You can switch your program easily and take on-demand classes if you feel like adding the odd barre session to your planner. The workouts are also compatible with Apple Watch. There's no free version of the app, although newbies can sign up for a 7-day free trial. 
During testing, we loved the range of workouts but found it a little irritating having to bend down and manually skip between exercises, although it wasn't enough to put us off using the app regularly. We'd also say this app is definitely aimed at women, but there's no reason why guys couldn't follow the training plans. 
Read our full Sweat review here. 
If you're a fan of Lilly Sabri's ab workouts (read what happened when our fitness editor tried the Lilly Sabri 7-day ab challenge here), this is the app for you. There's a free version of the app, which still gives you a good amount of workouts, but premium subscribers get access to Lily's free library of workouts and recipes.
As well as Lilly's classes, there are a number of different challenges to join, including a legs challenge, an abs challenge, and an upper-body challenge. New workouts and challenges are uploaded regularly. Of course, everyone knows abs are made in the kitchen (well, kind of), so Lilly's app also has a host of recipes to help you stick to a healthy eating plan. 
For those of you who haven't heard of her, Sabri has amassed a following of 3.24 million on YouTube and is a chartered Physiotherapist and Pilates instructor who shares her free fitness challenges. She's a brilliant motivator, and her instructions during class and modifications for beginners make this app suitable for all levels.
All of the workouts can be done from home using a resistance band (take a look at our best resistance bands here), some weights (we've found the best adjustable dumbbells here), and a Pilates ball. Lilly also sells equipment in the 'store' part of her app. The downside here is that while the content is excellent, the app itself needs a little tweaking. At the moment, there's no way of saving workouts you've already done, and it's difficult to filter workouts. 
Download Lean now: Android, iOS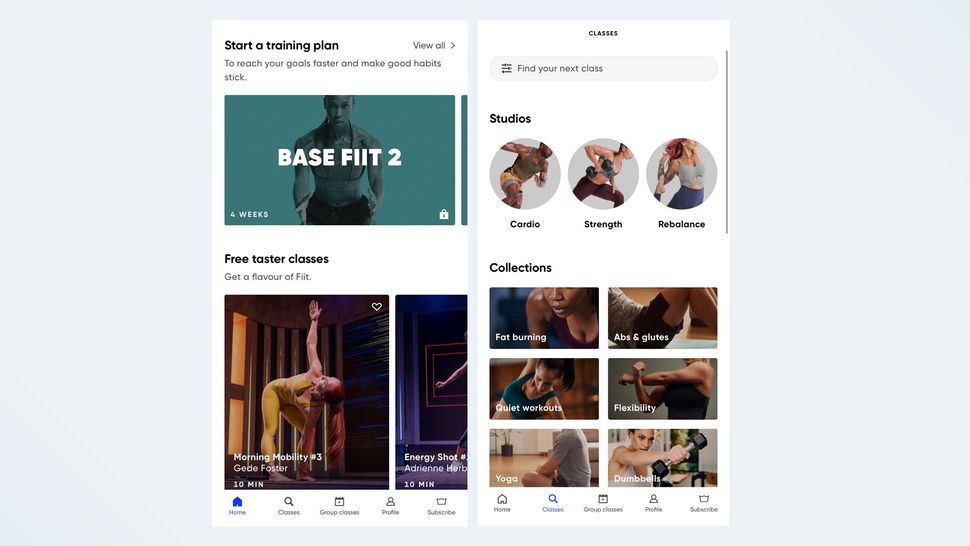 When it comes to working out from home, it doesn't get better than Fiit, which has a range of training programs and workouts to suit every level of fitness. There are fat-burning classes, quiet workouts you can do when the kids are asleep and marathon prep strength sessions to get you that PR. 
Fiit has been around for UK users for a while now, but the app is now available in millions of households in the US via Comcast's Xfinity X1 and Xfinity Flex. Members who choose to enable access to a fitness tracker within the Fiit app on Xfinity X1 and Xfinity Flex for the first time will have their live stats displayed on the TV screen as they workout. Stats trackable by the app include Fiit points, rep counting, heart-rate zoning, and the number of calories burned. 
During testing, we loved the option to create group classes, and compete against friends. We also liked the personalized training plans, which give you the option to select a goal, such as losing weight and then see a specialized plan on how to get there. This app won't be for everyone and can feel a little "gym-bro" at first, and there's no option to filter by music or play your own music during the workouts, but the workouts are challenging, and you will see a difference. 
Download Fiit now: Android, iOS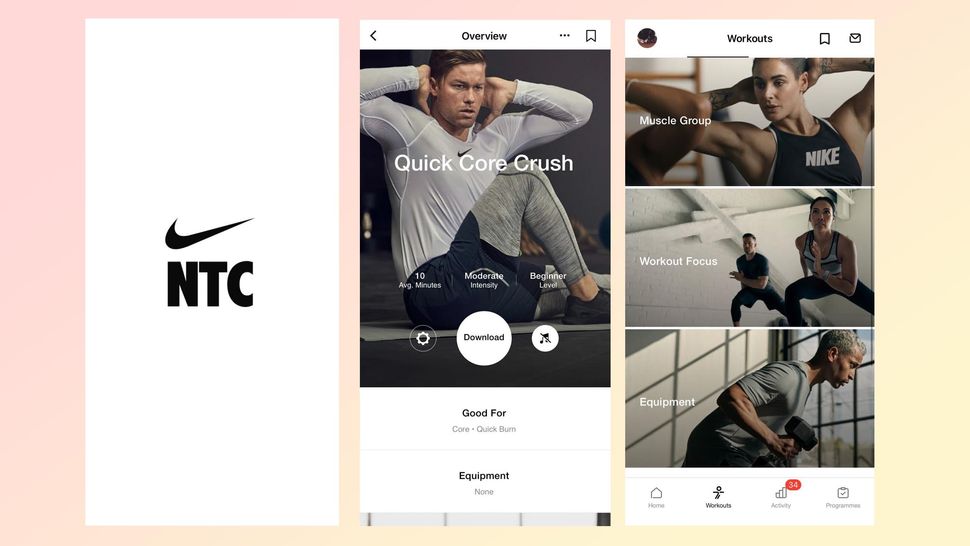 In March 2020, Nike made its Nike Training Club app content completely free for 90 days, to help people keep fit while they stayed at home during the COVID-19 pandemic. Since then, the app has been completely free for users, and unlike others on this list, there's no paid version anymore. 
However, with the update, Nike removed some of their training programs, which used to be a popular feature of the app. Instead, you now have the option to filter workouts by muscle group — abs and core, arms and shoulders, or glutes and legs, workout focus — endurance, mobility, strength, and yoga, and by equipment. There is also the option to filter by duration, level, and intensity. 
During testing, we found the instructor-led workouts to be engaging and motivating, and also enjoyed the whiteboard workouts, which show you the entire workout so you can follow at your own pace. There's also the option to connect the workout to your Apple Music. It's not perfect, but for a free app, there's plenty to keep you moving here. 
Read our full Nike Training Club app review here.
Download Nike Training Club: Android, iOS.
You might not be able to make it to the gym as much as you used to, but that doesn't mean the workouts have to stop. Shred promises to serve up daily workout routines, covering a range of training styles, to help you stay fit even when you're stuck at home. 
Shred lets you choose between different types of training — gym, bodyweight and cardio — serving up different exercise routines that push you toward meeting your goals. The app features interactive visuals and activity logging, so that you can see your progress on a daily basis. There's even a Shred community to add extra motivation for your workouts. (You can also opt-out of that feature, should you prefer to exercise alone.)
A 7-day free trial lets you sample Shred to see if its approach to home exercise works for you. After that, you'll pay $12.99 per month for a Shred membership. After starting out on the iOS App Store, Shred is now available for Android phones, though it's still listed as an early access app at Google Play.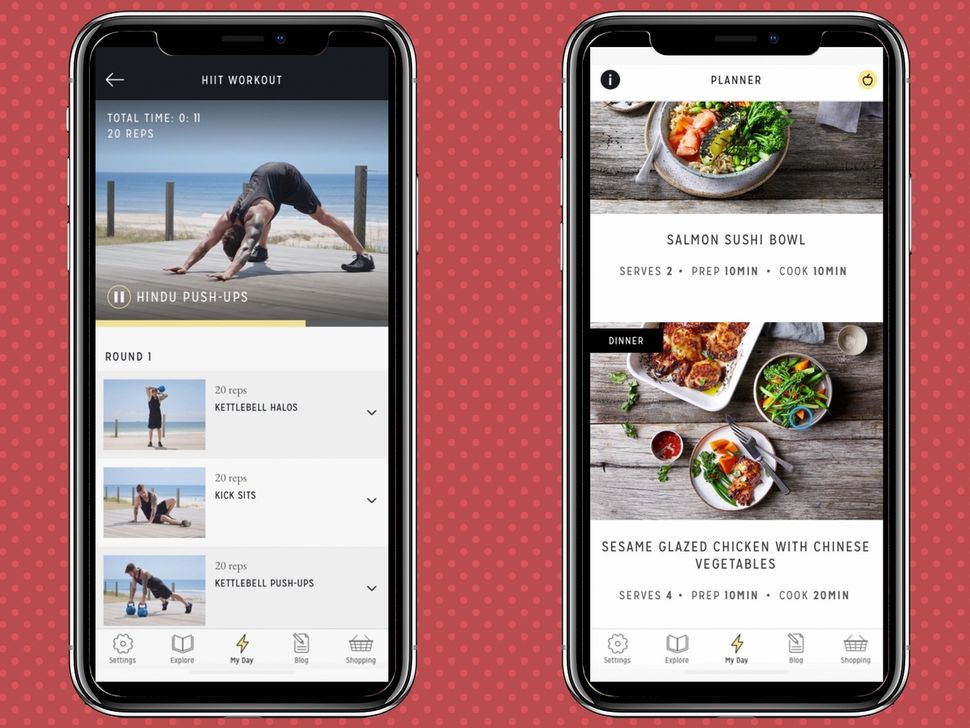 When looking for a fitness regimen, you could do a lot worse than opt for the own favored by Thor. Actor Chris Hemsworth has thrown his weight behind Centr, an app that looks to combine exercise with meal planning and mindfulness to help both your physical and mental shape.
Centr offers daily workout videos that you can practice either in the gym or at home, covering a variety of disciplines (HIIT, strength training, boxing and even yoga and pilates). Meal plans let you find healthy, tasty recipes, while guided meditations and sleep tips work on putting you in the right mental space.
During testing, we loved the variety of classes available on the app, but wished there was the option to play our own music during classes. We also wished there was the option to download workouts for when the WiFi in the gym wasn't working. 
Centr features a 7-day free trial, with monthly subscriptions costing $29.99. However, you might want to consider an annual subscription, which offers a very generous discount on the monthly rate, cutting it down to $10 a month.
Read our full Centr review here. 
Whether you're a newcomer to yoga or an experienced practitioner just looking for something different, Alo Moves should fit the bill. The yoga and meditation app offers classes for every level and gives you the ability to customize your workout routine.
To that end, we particularly like Al Move's library, where you can save favorite classes and teachers. You're also able to create your own collections of routines and download favorite classes to practice offline. 
Far from just a yoga app, Alo Move has a wide variety of classes. If you're a yogi who likes to do the odd HIIT or Pilates class, or your a HIIT fan who wants to add yoga to your routine, you'll find something for you in the app. Each class is clearly labeled by difficulty, intensity, and the equipment needed. You can also filter by an instructor, and choose to play your own music during the class if you'd rather. 
At $20 per month, Alo Moves is one of the more expensive options among the best workout apps, but it does offer a wide variety of classes. During testing, we found the classes were best taken in a home workout setting, as there's no option to see the workout step-by-step in the gym. 
Download Alo Moves: Android, iOS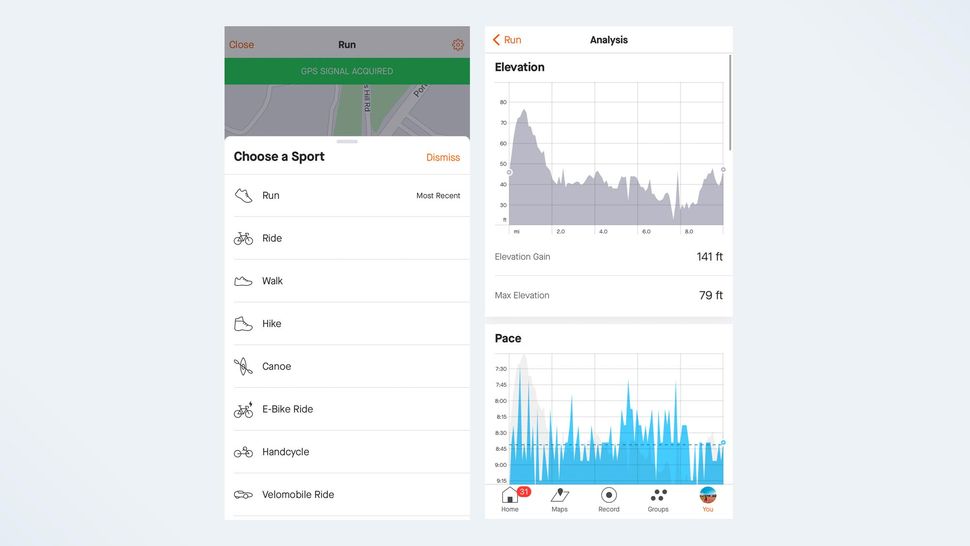 Strava is one of the best running apps on the market, with a free and a paid subscription to allow runners, cyclists, and walkers to keep track of their progress. That said, despite its reputation as an app for runners and cyclists, you can track a total of 31 different sports. The list includes hiking, canoeing, an E-Bike ride, rowing, alpine skiing, swimming, stand-up paddleboarding, and yoga.
Of course, it's important to point out that there are no actual workouts on Strava, so unlike other apps on this list, don't log on and expect to follow a strength training session — this is an app for tracking your progress. 
While the free version of the app is brilliant, the paid version gives users the option to use the Routes tool on Strava, which gives you suggestions based on where other runners in your area have clocked their miles, as well as segments, advanced performance metrics, and training plans. 
Strava supports a variety of running trackers in addition to Wear OS devices and Apple Watch. (Just make sure you opt out of the location tracking features if you happen to be around restricted areas. There are also handy features like Strava Beacon, which are designed to keep you safe, by allowing your friends or family members to track your live location on a run. 
Read our full Strava review here. 
How to choose the best workout app
The best workout app for you covers the exercises you're interested in doing at a level that's accessible to you. Ideally, a good fitness app will support multiple levels of expertise so that as you get fitter and more comfortable, you can push yourself to the next level.
While a handful of apps are free, many of these workout apps require a subscription. Take advantage of any trial period and then try a monthly subscription to see if the app meets your needs. If you like what you see, you can always switch to an annual subscription, which usually lowers your monthly cost.
If you're someone who likes to mix up your workout routines regularly, it might be a good idea to look for a well-rounded workout app that has a good mix of workouts to suit your mood and prevent you from regretting your monthly subscription. 
Several of the options on our best workout apps list will log your exercise data. If you're an iPhone user, pay special attention to any apps that integrate with the built-in Health app on your phone.
What are the best free YouTube workouts? 
If you're not ready to subscribe to an app, YouTube has plenty of free workouts to try. Don't believe us? Our Fitness Editor has been putting a few to the test in her quest to get the abs of her dreams: 
Get healthy and in shape with our fitness guides:
Best treadmills | Best exercise bikes | Best adjustable dumbbells | Best home gym equipment | Best yoga mats | Best workout apps | Best running apps | Best sports watches | Best smartwatches | Best smart scales  |  Best resistance bands
How to lose belly fat | Best arm workouts with dumbbells | Best resistance band workouts | Use this 3-day lifting routine to get jacked | The best 10-minute ab workout to get that six-pack | How to train for a half marathon | How to train for a marathon  |  Best arm workouts with dumbbells  |  Best tabata workouts