The best Samsung phones welcome new devices to the top spots, as last year's Galaxy S21 family makes way for the Samsung Galaxy S22 lineup. We've tested two of the three new models and have found both to be welcome additions to the Samsung phones you can buy right now.
And make no mistake — while the Galaxy S22 lineup clearly shows off the best Samsung phones have to offer, challenging for a spot among the best phones, you'll find other Samsung devices at a whole range of different prices. From the low-cost Galaxy A32 5G to the expansive (and expensive) Galaxy Z Fold 3, there's a Samsung phone to meet both your budget and your desired list of features.
With the Galaxy S22 models shipping by the end of this month, it's time to consider which Samsung device to get. We've got a list of reasons to buy and skip the Galaxy S22 as well as why you might want to buy the Galaxy S22 Ultra, if you're trying to decide among the latest phones.
No matter what model has caught your eye, picking the best Samsung phone for you comes down to figuring out what kind of phone you're looking for and how much you're willing to pay. No matter what the answers to those questions are, there's likely a device for your needs among the best Samsung phones. And if you do pick one up, make sure you check out what the first app you should install on your Samsung Galaxy phone is.
What are the best Samsung phones?
The Samsung Galaxy S22 Ultra is the ultimate Samsung flagship, and its our pick for the best Samsung phone right now. If you don't want to pay more than $1,000 for a phone, the Galaxy S22 Plus gives you a big-screen device that's less expensive than the Ultra. We'll have a review of the standard Galaxy S22 soon.
There are cheaper options than the S22, in the form of the Galaxy A52 5G and Galaxy A32 5G. The Galaxy S21 FE gives you a way to enjoy the key features of Samsung's flagship lineup, though it draws its inspiration from last year's S21 lineup.
As for Samsung's foldable phones, the Galaxy Z Fold 3 is the more impressive addition to Samsung's phone lineup, thanks to a giant screen that offers a 120Hz refresh rate. But the Galaxy Z Flip 3 is still a compelling option, thanks largely to its lower price tag. You can now order a customized version of the Z Flip 3 where you get to pick your own color combination, if you're willing to pay a little bit more.
The best Samsung phones you can buy right now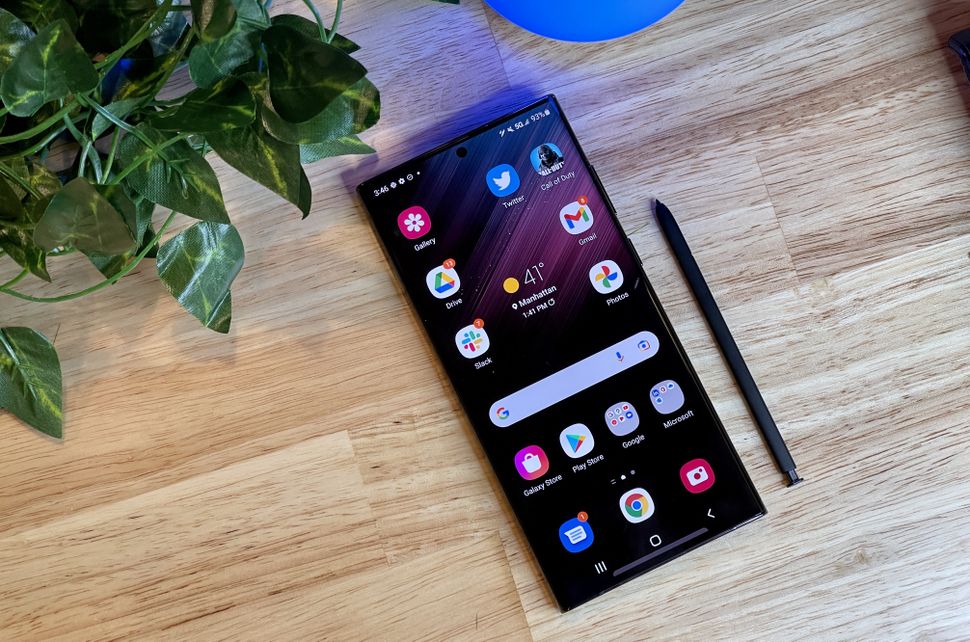 Looking for the best Samsung phone? Then look no further than the Galaxy S22 Ultra, the crown jewel in Samsung's new lineup of flagship phones. The S22 Ultra rises to the top of our list by drawing upon an old familiar phone to Samsung fans — the design looks like a Galaxy Note model, right down to the slot for the included S Pen.
This is more than just a rehash of the Galaxy Note, though, as the Galaxy S22 Ultra delivers the brightest display we've yet tested, a new Snapdragon 8 Gen 1 processor, and terrific camera improvements. The larger sensor on the new Ultra's main camera lets in more light for better low-light photography, and we also appreciate software improvements like the more advanced Portrait mode.
We wish battery life was a little better, though we appreciate that Samsung has gone back to 45W charging for this model. All told, this is a fine phone that should appeal to any Samsung fan who wants the best possible handset.
Read our full Samsung Galaxy S22 Ultra review.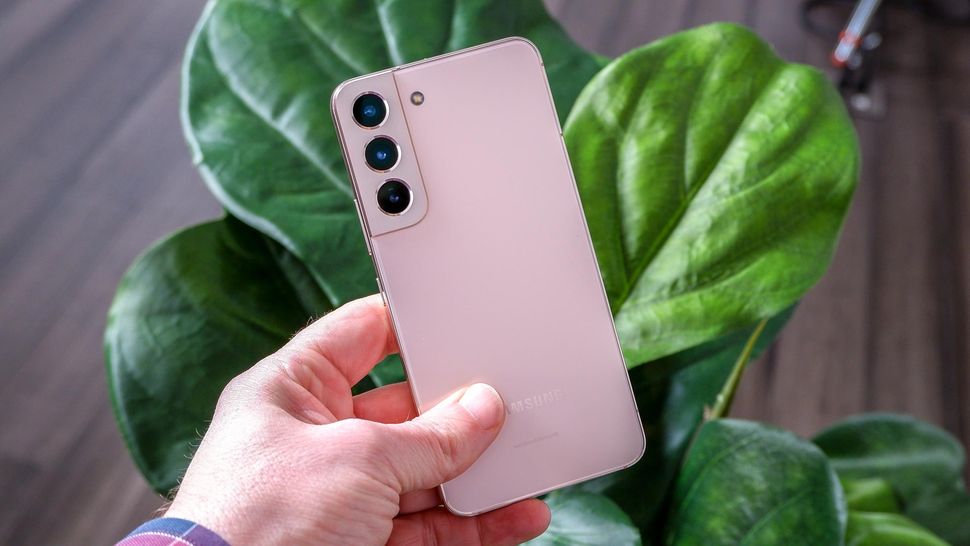 It's tempting to overlook the Samsung Galaxy S22 Plus, wedged as it is between the low-cost Galaxy S22 and the feature-packed Galaxy S22 Ultra. But make no mistake — the Galaxy S22 Plus is a stellar Samsung phone in its own right. Owners of last year's S21 Plus may not notice much of a difference, but if you've had the same phone for more than two years, the Galaxy S22 Plus can offer you a premium experience without the Ultra's stratospheric price tag. 
You get the same Snapdragon 8 Gen 1 processor that powers the S22 Ultra, and while the latter phone has more sophisticated camera specs, the Galaxy S22 Plus can hold its own, particularly when it comes to low-light photography. You also can enjoy the same bright display and fast 45W charging found in the Galaxy S22 Ultra, but for $200 less.
The Galaxy S22 Plus is the big-screen phone to get if you can't swing the Galaxy S22 Ultra. It's proof again that Samsung really know its way around a device with welcoming display.
Read our full Samsung Galaxy S22 Plus review.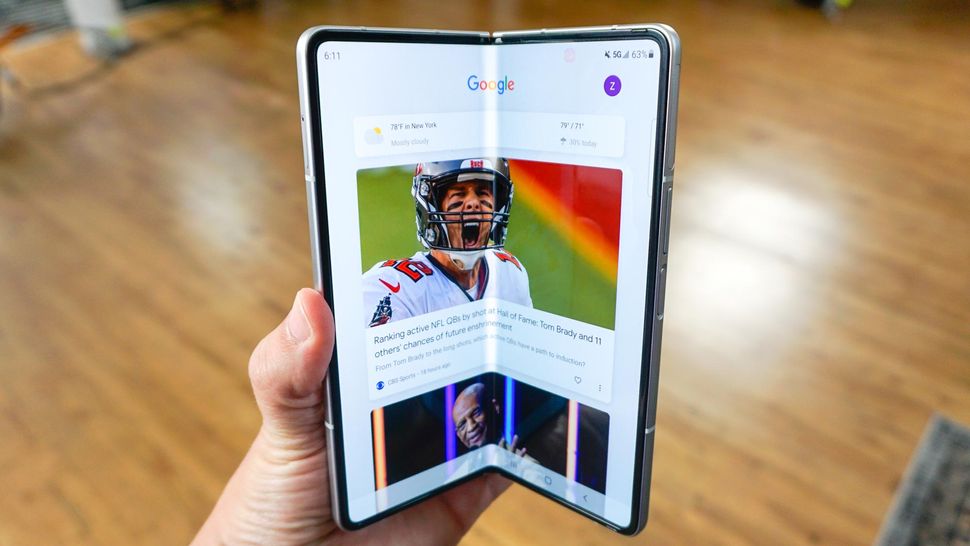 Samsung's premium foldable phone remains the Galaxy Z Fold 3, especially now that the new version has added 120Hz displays both inside and out. What's more, the new Galaxy Z Fold 3 is more durable than ever, thanks to an IPX8 water resistance rating, The Armor Aluminum body is stronger than before while the phone's use of a Gorilla Glass Victus display should reduce the likelihood of scratches and other damage.
One of the best things Samsung did was to convince more app makers to optimize their software to work with the Galaxy Z Fold 3's foldable display. You'll see popular apps like Spotify and TikTok now take advantage of the Z Fold 3's unique form factor. Samsung added S Pen support, too, and while the main display certainly gives you a lot of real estate for sketching and taking notes, it's a shame the stylus is an optional accessory (meaning you'll have to pay extra to pick up both an S Pen and a case for holding the stylus).
Battery life on the Galaxy Z Fold 3 could be better, and while the debut price is lower than what it was for the Galaxy Z Fold 2, $1,799 is still a lot to pay for the phone. Nevertheless, if you want a premium device that gives you plenty of screen to work with, the Galaxy Z Fold 3 is the best Samsung phone yet to offer a foldable display.
Read our full Samsung Galaxy Z Fold 3 review.
Samsung's midrange phone lineup is currently led by the Galaxy A52 5G. (That's the case in the U.S., at least, where the Galaxy A72 5G won't be shipping.) Despite a lower price tag than the Galaxy S series, you'll find a lot of the key features that highlight those phones. Samsung includes a 6.5-inch display with a 120Hz refresh rate, though there's no dynamic adjustment for the Galaxy A52 5G's screen.
The main 64MP lens takes some pretty compelling shots, even if the other cameras on the phone (a 12MP lens plus dedicated macro and depth sensors) can't keep pace with the photos produced by top camera phones in this price range. You will appreciate the A52 5G's Snapdragon 750G chipset, its hearty battery life and the fact that a phone charger ships with the phone.
If you're looking for a Samsung phone for less than $500, the Galaxy A52 5G is a pretty solid choice, though the Galaxy A42 and A32 go even lower on price. (See how these phones stack up in our Galaxy A52 5G vs. Galaxy A42 5G vs. Galaxy A32 5G comparison.) The A52's successor, the Samsung Galaxy A53, could also be on its way very shortly, with some suggesting the A53 could debut alongside the Galaxy A22.
Read our full Samsung Galaxy A52 5G review.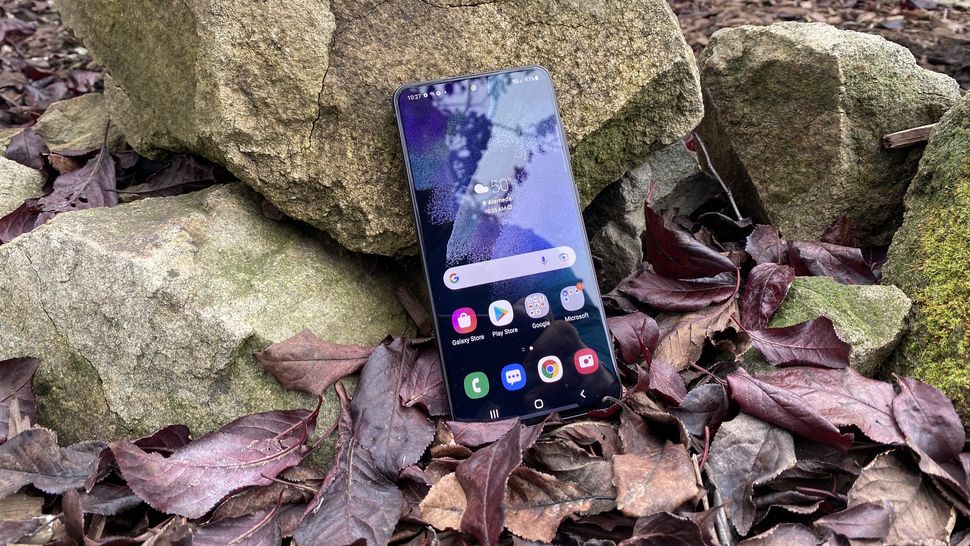 You don't need to pay full price to get the big features in the Galaxy S21 lineup. For $100 less than the standard Galaxy S21, the Galaxy S21 FE lets you enjoy a Snapdragon 888 processor, a fast-refreshing display and cameras that can hold their own against the top camera phones.
There are some trade-offs. Samsung puts less RAM in this device than in its other Galaxy S21 models, and the refresh rate on the 6.4-inch display is not adaptive — you have to manually adjust it. And that can adversely affect battery life.
Still, everything else you'd want in a Samsung phone is here with a larger screen than what you get with the standard S21. With the Galaxy S22 debuting at $799, there's only a $100 difference from the Galaxy S21 FE. That's not a lot to pay for a more updated phone, but if you can't go any higher than $699, at least the Galaxy S21 FE still delivers plenty of features for less than you'd expect to pay.
Read our full Samsung Galaxy S21 FE review.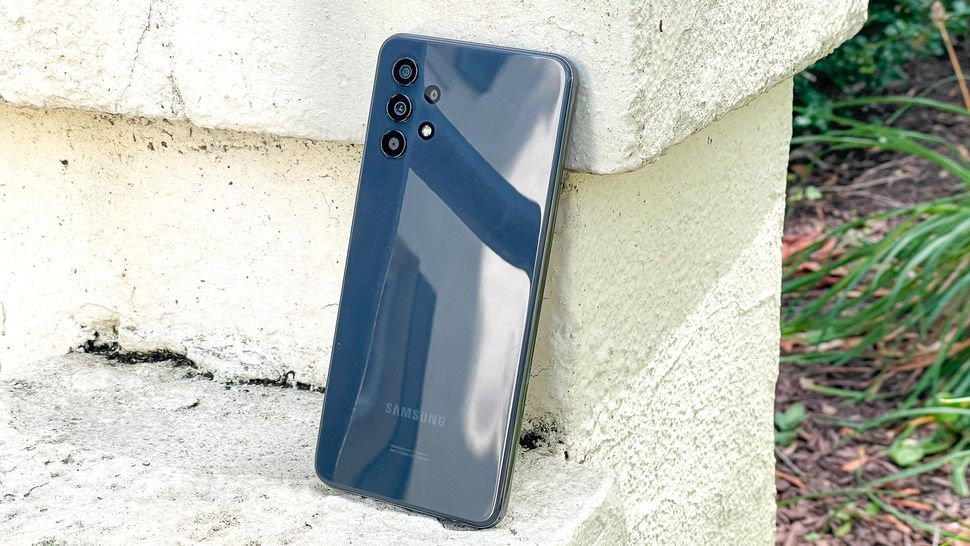 Samsung isn't resting on its laurels with the affordable 5G smartphone market. Cue the Galaxy A32 5G, a sub-$300 5G-capable smartphone. It sports many things people love about Galaxy phones, but with some corners cut to keep the price down. The biggest downside is the underwhelming display. The size combined with the low resolution doesn't look great in person.
However, if you're strapped for cash and want a phone with decent cameras, the Galaxy A32 5G is one you should consider. With its big 6.5-inch screen, the A32 is not a small phone. But it packs a 5,000 mAh battery that lasts a really long time — almost 12 hours in our testing with its adaptive refresh rate enabled. You can also expect the Galaxy A32 to go for longer than many other budget options, with Samsung promising three years of Android updates and four years of security patches.
Read our full Galaxy A32 5G review.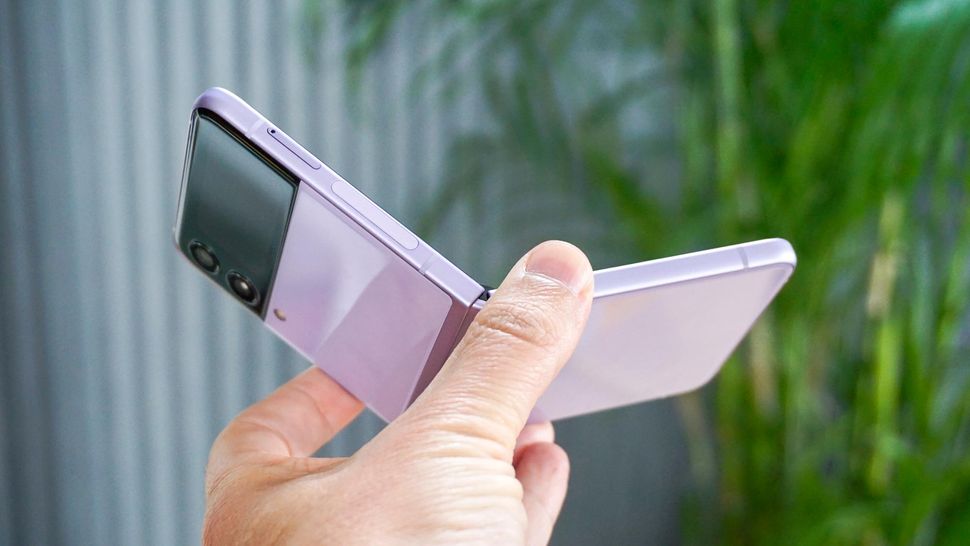 The Galaxy Z Flip 3 is the first "affordable" foldable phone. Starting at $999, it offers top-end specs and the ability to fold in half horizontally. This makes for a very pocketable device that packs a serious punch. 
That said, the Galaxy Z Flip 3 has notable flaws, such as its short battery life. In our testing, it lasted for just 6 hours when the display was locked at 60Hz. And the Flip 3 lacks a telephoto lens, unlike other phones at this price range. But the Galaxy Z Flip 3 is a novel thing.
The phone can become even more novel if you opt for the Galaxy Z Flip 3 Bespoke Edition. This $1,099 version lets you choose the colors of the frame as well as the front and back panel — there are 49 color combinations in all. Samsung bills this option as a way to add your own unique flair to an already unique-looking device.
Read our full Samsung Galaxy Z Flip 3 review.
How to choose the best Samsung phones
Picking which Samsung phone to buy is primarily driven by budget considerations. You're not going to spring for a Galaxy S22 Ultra, for example, if you're not prepared with at least $1,199 even if you opt to spread those payments out over time. But other factors need to be taken into consideration as well.
Start with how you use your smartphone. If it's primarily a productivity device, the Galaxy S22 Ultra and Galaxy Z Fold 3 are appealing, despite their high price tags, because they both support the S Pen. (The S22 Ultra now comes with an S Pen, in fact.) If you turn to your phone for photography, the Galaxy S series is usually first in line for Samsung's camera innovations, and all three S22 models offer impressive camera features.
Budget-minded shoppers will want to look at the Galaxy S21 FE, which costs $100 less than its fellow Samsung flagships. For a lower cost and a step down on some more features, there's the $499 Galaxy A52 5G or the even cheaper Galaxy A32. You can also find discounts on Samsung phones by buying directly from the phone maker and trading in your current device. Check out the best Samsung phone deals for the latest savings.
With the Galaxy S22 about to ship, our attention can turn to future samsung phones. The Galaxy Z Fold 4 and Galaxy Z Flip 4 aren't due out until the summer, but before then we'll likely see new Galaxy A models headed up by the midrange Galaxy A53.
How we test Samsung phones
To find the best Samsung phones, we test the company's handsets the same way we test every smartphone we review. We run benchmarks on each phone, including synthetic benchmarks like Geekbench 5 and 3DMark to measure graphics performance. That allows us to compare Samsung device to other phones, including Apple's iPhone. In addition, we use real-world testing that includes a video transcoding test using Adobe Premiere Rush. 
In our lab, we measure the brightness of the phone's display (in nits), as well as how colorful each screen is (using the sRGB and DCI-P3 color gamut). In these cases, higher numbers are better. We also measure color accuracy of each panel with a Delta-E rating, where lower numbers are better and score of 0 is perfect.
To determine how long a Samsung phone's battery lasts, we have the phones continuously surf the web over LTE with their screens set to 150 nits of brightness. The average smartphone lasts for 10 hours, with the best phone battery life reaching 11 hours or more in our testing.
Our camera testing involves taking photos with each Samsung phone we review and comparing them to similar shots from comparable models.We take shots of landscapes, food, portraits and more, and also allow you to be the judge with side-by-side comparisons in our reviews.